I swear, sometimes products are haunting me like a ghost! When a certain product got my attention, I start seeing them everywhere online and offline until my weak beauty junkie heart finally gives in and purchase the damn product. Despite that, I still don't go all in. I was a bit skeptic when I bought this "super primer" that's why I went for the 30mL tube first. And that was the start of my biggest regret this 2018. But don't leave this post yet! Hear me out first, there's a silver lining at the end of this post so keep reading my J.One Jelly Pack review.
WHAT IS IT?
The J.One Jelly Pack claims to be a multitasking innovation that simplifies your everyday skincare routine. It combines your morning skincare routine, a mask, and a primer all-in-one. South Korean actress, Ha JiWon, developed this after years of spending hours in morning trying to make her skin look its best for photo & film shoots – her dream was to have a step that did it all, and after working with one of Korea's top labs for many months, she finally created this special formula.
If you don't know Ha JiWon, she's the lead actress of some of the top Asian dramas like Secret Garden, Something Happened in Bali, Empress Ki (my favorite), and more which you could find in AsianWiki.
INGREDIENTS: This product contains ingredients I both like and dislike. I like Niacinamide (improve the appearance of enlarged pores, uneven skin tone, fine lines, dullness, and a weakened skin surface) and Hydrolyzed Hyaluronic Acid (keeps collagen synthesis up, as well as retaining skin moisture, contributing to the anti-aging benefits to the skin.) But it also contains it contains PEG 150 Distearate, Butylene Glycol, and Dimethicone that can cause acne. You can read more about its ingredients in this CosDNA Analysis.
PERFORMANCE
APPLICATION & TEXTURE: I was expecting a gel or balm texture like the Benefit Porefessional or something in between, but instead the texture of this Jelly Pack is like a crystal clear honey and almost quite a glue! It's tacky. But as someone who is an avid user of many Korean beauty products for 2 years, I knew instantly that I have to apply this the chok-chok way. Meaning gently patting this all over my face to fully absorb into my skin instead of gentle rubbing.
After washing your face, toning is optional, dispense 1-2 pumps or a pea-sized squeeze on your fingers and broadly sweeps a thick layer of the pack across your cheeks, forehead, and nose. Let it absorb and pat the Jelly Pack all over your face with a light, massaging motion like what Ha JiWon demonstrated. Telling yourself you're pretty while patting is optional too.
SCENT: It doesn't have any detectable scent.
PACKAGING: The Jelly Pack comes in two packaging. The 30mL, which I got, comes in a rubber tube (pictured on top). It is kinda difficult to control when dispensing the product. I squeeze lightly, the product won't come out. I squeeze a little too much, you'll get too many. While the 50mL comes in a pump plastic bottle which I hope is easier to use.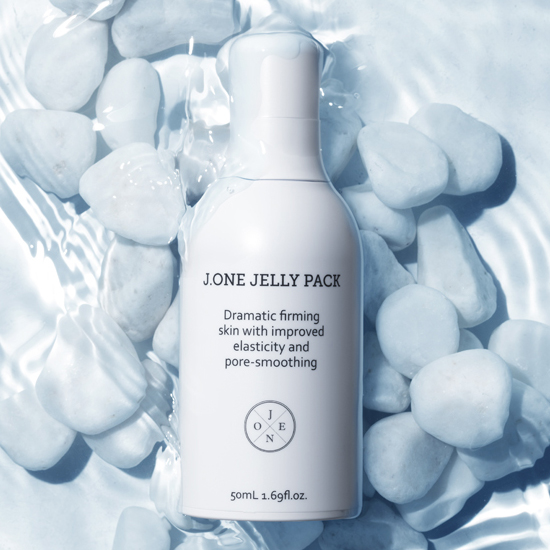 RESULT: I didn't like this on my first try because of its tacky formula. Turns out, I wasn't using it right. After patting the J.One Jelly Pack all over your face, let it sit for a while. It will look like your skin is smothered with slime but hang in there. Depending on your skin condition and weather, it takes 2-10 minutes which some people might dislike especially those who are in a rush. But it's okay because this is the only skincare product you will need in the morning besides the sunscreen.
I love its cooling effect which I think helps minimize the appearance of pores. This is actually also nicknamed a "corset pack" because the formula also wraps itself around the skin for a mini-lifting effect. But the true magic of this product is when you apply your sunscreen, BB or foundation with sunscreen on top. The formula 'grips' the makeup, making skin after application silky smooth like you have a glass skin! That is why it also got the "super primer" nickname.
This product also claims to be a good sleep pack, so I tried it myself. I applied it as the last step of my nighttime skincare routine. It does make my skin look plump and vibrant in the morning, but my other moisturizers like the Huxley Fresh Cream & More and Belif True Cream Aqua Bomb does a better job of doing both of those stuff.
VERDICT
PROS: I love using this product whenever I go out, it keeps my skin moisturized without feeling greasy, dewy without looking greasy despite having an oily skin, and it doesn't make my BB cream or foundation look cakey either. And most importantly, it last long!
CONS: It takes a while to be absorbed in your face because it has a tacky texture. It may be a super primer, but it is mediocre as a sleep pack. I prefer to use this as a morning moisturizer/primer. It can cause acne on some people.
I applied the Jelly Pack around 9 AM (left photo) and this is my face 8 hours later (right photo) which is not bad after spending hours in traffic and long lines to the Department of Foreign Affairs to get my passport. And take note, I have better lighting in the second photo, that's why my skin tone looks different.
WHERE TO BUY?
STORE
PRICE
DETAILS
KBeauty Cafe
Php1000 – 30ml
Php1550 – 50ml
Use the code itsmariaalyssa to get
Php100 off for first-time buyers with
minimum orders worth Php1000
BeautyMNL
Php1300
Pibu
Php1000 – 30ml
Php1550 – 50ml
Glow Recipe
$42
Sephora
$42
Cult Beauty
$58.33
They offer free international shipping.
What do you think of my J.One Jelly Pack review? What is your favorite primer? Share it below!