Constantly experiencing heated, flushed skin? Struggling with easily irritated, hard to calm skin? Always moisturizing but never feeling truly hydrated? Then read this Klairs Rich Moist Soothing Serum review, it might be the answer to your skin problems!
I live in a tropical island country, so heated flushed skin is often my problem besides my oily skin. But right now we're experiencing colder weather, because of that I've been getting dry flaky skin too around my cheeks. But that's not all! I also got my skin irritated because of the cold wax I recently had. It's a long story, but essentially, the salon where my mom gets her eyelash extensions does not do threading, only a cold wax and it was too late for me to back out so I let them wax my facial hair. And so, I ended up looking for products that will soothe my skin plus hydrate and moisturized as well. That is why it's so timely that Wishtrend sent me a full sized bottle of Klairs Rich Moist Soothing Serum that does exactly all that! But is it effective?
WHAT IS IT?
Klairs Rich Moist Soothing Serum claims to be a magical skincare serum that makes your skin softer and replenished with moisture. Keep your skin radiant and glowing throughout the day. It is made for soothing sensitive skin. To lower the surface temperature as it deeply hydrates for the calming & cooling your skin needs.
This is also one of the best-selling Klairs product and since their launch in 2009, they reformulate it, making it even better by taking into consideration what our consumers truly wanted. You can check its ingredients analysis in CosDNA.

PERFORMANCE
APPLICATION: After cleansing and toning, I apply 2-3 pumps of Rich Moist Soothing Serum all over my face by chok-chok (tapping gently) all over my face until it is fully absorbed which only takes a few seconds.
SCENT: This one has a very familiar floral scent with a hint of lemon. I can't point out where I've smelled it before but it's a really lovely and soothing scent. (UPDATE 2/16/2018: It smells familiar because it has the same smell as the Klairs Freshly Juiced Vitamin E Mask!)
PACKAGING: It is packaged in a sturdy plastic pump bottle, nothing elegant about it but it does not feel cheap. I actually like the mini cap it has. It is also packaged in a box that resembles a kraft paper.
FORMULA: It has a semi-thick consistency like a watery gel that is lightweight and easily absorbed into the skin. It also feels cool on the skin, but not that cool like Vicks Vaporub, it's more like a refreshing cool. Like a sudden cold air in summer. Lastly, this is vegan-friendly and cruelty-free. No animal testing & no animal by-products used.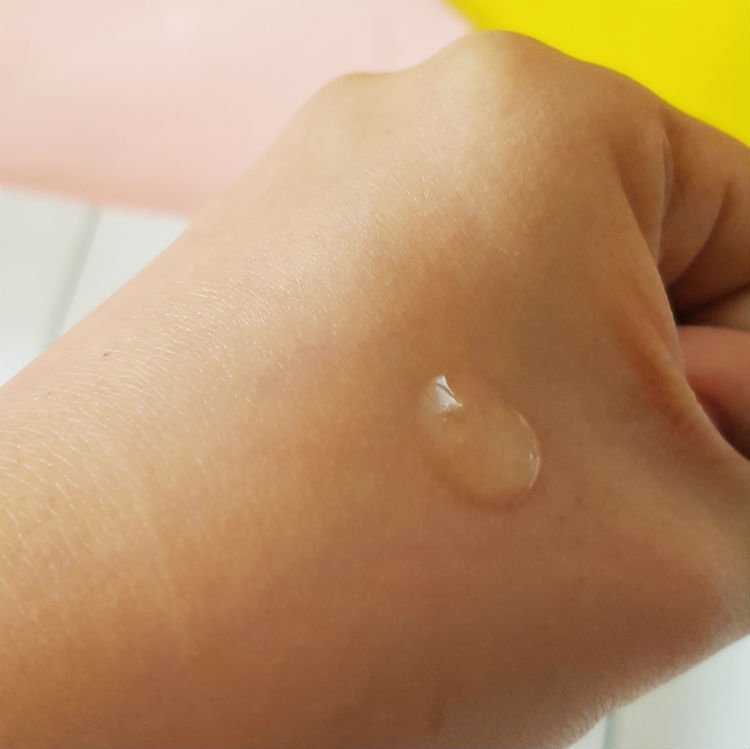 RESULTS: I never really expect any products to work instantly upon applying, but while I'm gently tapping Klairs Rich Moist Soothing Serum into my skin, I was surprised that my skin instantly looks smoother and glowing. It also turned my skin plump and bouncy. Honestly, if I don't have a few bumps on my skin, I think I have already achieved the so-called glass skin.
After the cold wax on my upper and lower lips, my skin turned red and kinda painful. I also felt that bumps will soon appear so I applied some Rich Moist Soothing Serum and the redness was prevented. But the best thing I love about this serum is it feels so cool and soothing. It really does hydrate and moisturized without the sticky, heavy and some "warm" feeling.
NOTE: Your skin's hydration level could be the key factor for long-lasting, flawless make up. A well-moisturized skin secretes fewer oils and helps the makeup work with your skin, not against it. When your skin is moisturized on a cellular level and an optimal balance is reached, a hydration barrier supports the health of your skin.
VERDICT
PROS: It hydrates and moisturized your skin thus it gives you an instant glow and smoother look. It also cools down skin; soothe and calm sensitive and irritated skin. It's a lightweight, non-oily, non-sticky and absorbs easily into the skin so it's a good moisturizing product for those with oily and combination skin. But still moisturizing enough for those with dry skin. It's also a nice base for your makeup.
CONS: Either I don't really see any cons or I've been using this for only a few days that's why I don't see it. But so far, this is so close to becoming one of my Holy Grail products.
WHERE TO BUY?
STORE
PRICE
DETAILS
Wishtrend
$22.99
They ship internationally.
Go Bloom & Glow
Php1200
Use code MARIM60 to get
₱100 OFF on your entire order
(minimum of ₱1000, single-use only).
KBeauty Cafe
Php1200
Use the code itsmariaalyssa to get
Php100 off for first-time buyers with
minimum orders worth Php1000
Lazada
Php1200
Revolve
$23
They ship internationally.
What do you think of the Klairs Rich Moist Soothing Serum review? Have you tried it? Share your thoughts below!
**I received the product mentioned above for free in the hope that I would mention it on my blog. Regardless, I only recommend products or services I use personally and believe will be good for my readers. All thoughts and opinions are my own and not influenced by the brand or its affiliates.