I have been dyeing my hair different colors (mostly violet) for over a year now and I don't see myself stopping anytime soon. I'll probably do this until my 30's! If you're wondering if my hair is damaged, well, not really. Because I use really good hair products to keep my bleached and colored hair smooth, soft, shiny and healthy. Seriously, I get asked a lot how I maintain my hair because most people with unusual hair color like mine have really dry and damaged hair, almost like a broom, but mine isn't. Actually, besides hair products for maintenance, choosing the right brand of hair color is also a factor. I've already had a go-to hair color brand but I still try other brands. So now, I'm sharing my Lime Crime Unicorn Hair review, a new product created by a brand made by and for Millennial mermaids and unicorns.
Does it dry your hair out, or it's kinda conditioning? Do you really have to bleach your hair to use this? Does it work on brown hair? Does it stain? Does it last long? These are some frequently asked questions when it comes to hair dyes, and I will answer all of it.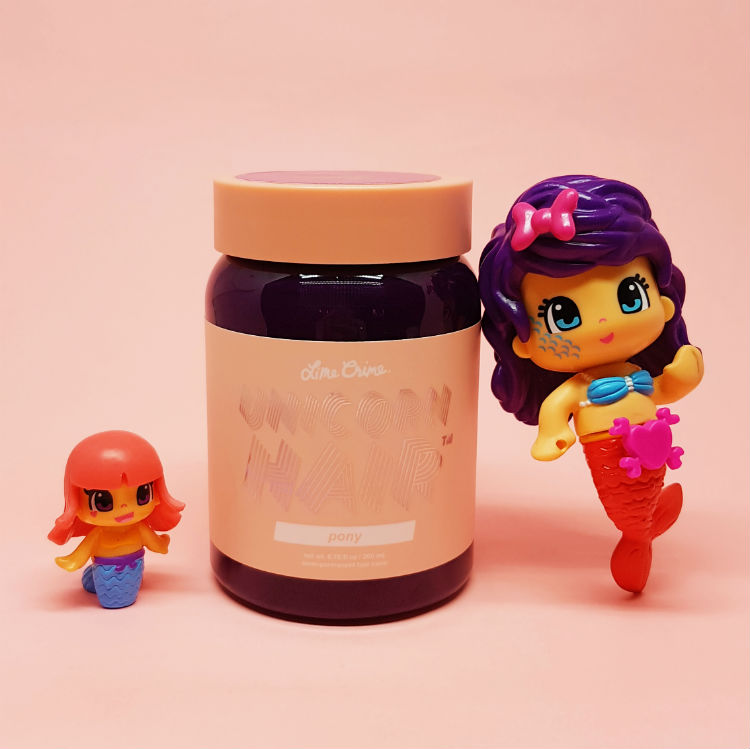 WHAT IS IT?
Lime Crime Unicorn Hair is a semi-permanent hair color designed especially for brunettes. Lime Crime Full Coverage formula claims to be pigmented enough to show up even on light to medium brown locks – bleached or unbleached. Strong enough to last, gentle enough to never damage your hair. It conditions hair while depositing clean, vibrant color. Lasts longer & fades gracefully and it's 100% vegan & cruelty-free hair dye.
PERFORMANCE
APPLICATION: Apply to clean, unconditioned hair, massaging into each strand. Full Coverage: leave in for 30 minutes (no heat/cap needed). Tints: Leave in for 45 minutes. Rinse until water runs clear, conditioner optional.
SCENT: It smells like candy which is not common for hair dyes.
PACKAGING: It is packaged as is in a plastic jar, like Manic Panic Hair Dye but bigger!
RESULT: When my colorist applied Lime Crime Hair Unicorn to my bleached (yet still a bit yellow) hair she said that it will not last in a week because the creamy formula resembles a cellophane treatment. She also said the color doesn't stick to my hair that much, unlike my go-to brand which is Pravana Vivids. Upon drying my hair, I got an instant ombre hair. It turned out more old rose shade than violet in the upper part of my hair where it was a bit yellow (around Level 7-8 blonde) but I got the perfect Lime Crime's Pony shade in the bottom part where my hair is around Level 10 blonde.
The color didn't end up as vibrant as I expected but at least my hair wasn't dry. If you really want to achieve the shade you want in Lime Crime Unicorn Hair, I suggest to bleach and tone your hair first.
I may not get the shade right but at least the conditioning claims were true! Plus, my colorist was also wrong! The color lasted more than a week, it actually took me 3 weeks to see the color started to fade. Which is quite long for a conditioning and ready-to-use formula. But of course, not washing my hair every day and using color-safe shampoo, conditioner and hair treatment helped as well in keeping the color last longer.
VERDICT
PROS: It works on brunette hair (but don't expect you'll get the exact shade), it conditions your hair while it colors it, it lasts up to 3 weeks, and does not stain your skin or shirt once dyed in your hair.
CONS: You need Level 10 blonde to get the color, and can be intimidating when applying because it looks like the dye doesn't stick to the hair.
Where to buy?
If you live in the Philippines, you can buy Lime Crime Unicorn Hair in Rainbow Head for Php1200 per jar.
If you live in the US or other parts of the world, you can buy this hair dye directly from Lime Crime for $16 and Ulta for the same price. They're also available in Packettes for $1.50 if you just want to test them first. And more shades are available:
What do you think of this Lime Crime Unicorn Hair review? Would you like to rock a unicorn or mermaid hair? Share your thoughts below!