I love BB creams and cushion compacts made by Korean brands are filled with those. But I honestly still haven't found a cushion compact that I truly love. However, I still haven't stopped myself from buying one, hoping that one day it will be the one. You might be thinking, why? Well, cushion compacts are really convenient to bring around, plus they have a mirror so I don't have to bring a pocket mirror that will take another space in my small bag (I don't like bringing huge bags like a typical Tita of the Philippines). So is this the one? Keep reading my A'Pieu Air Fit Cushion review to know more.
WHAT IS IT?
A'Pieu Air Fit Cushion often comes with a limited edition case like Doraemon, but this one I have is a Rilkumma edition which is one of the many Sanrio characters, just like Hello Kitty. It claims to have a double layer powder that gives silky skin cover, and flawless makeup look. The powder fits on the skin for long hours for clean makeup. It contains aloe vera, tea tree ingredient that gently sooth the skin. It is formulated with rose extract 28% instead of water for skincare. It also contains collagen and 17 kinds of the amino acid complex that will give skin elasticity and vitality.
PERFORMANCE
APPLICATION: Gently press the cushion puff on to the foam to get some product. And then pat it gently all over your face a natural toned-up skin.
SCENT: It does smell like a little rose water.
PACKAGING: The case is sturdy and cute! And as expected from cushions compacts, the puff and the soaked cushion are separated. Lastly, don't forget to remove the plastic cover of the mirror, or else you'll always look blurry.
RESULTS: The formula of the A'Pieu Air Fit Cushion is non-sticky, so it's good for those with oily skin. if you don't like a dewy look, this might not be a cushion for you because it has a semi-matte finish that ends up kinda dewy. Although, it does have a good coverage that doesn't look cakey no matter how many layers you put on your face. Despite that, this is still not the cushion for me because it only has 2 shades (N21 & N23) and the N23 which is the darker shade is still too pale and ashy for my skin tone. Lastly, this cushion is not for those with acne-prone skin because it broke me out.
I'm aware that you have to be very hygeniec on using cushion compacts because the cushions can get bacteria and they kinda grow them (gross!) when they got it, but I assure you I was very clean whenever I use this. I don't apply this when I sweat and always with a newly washed face. But I still got a breakout after using this in a week.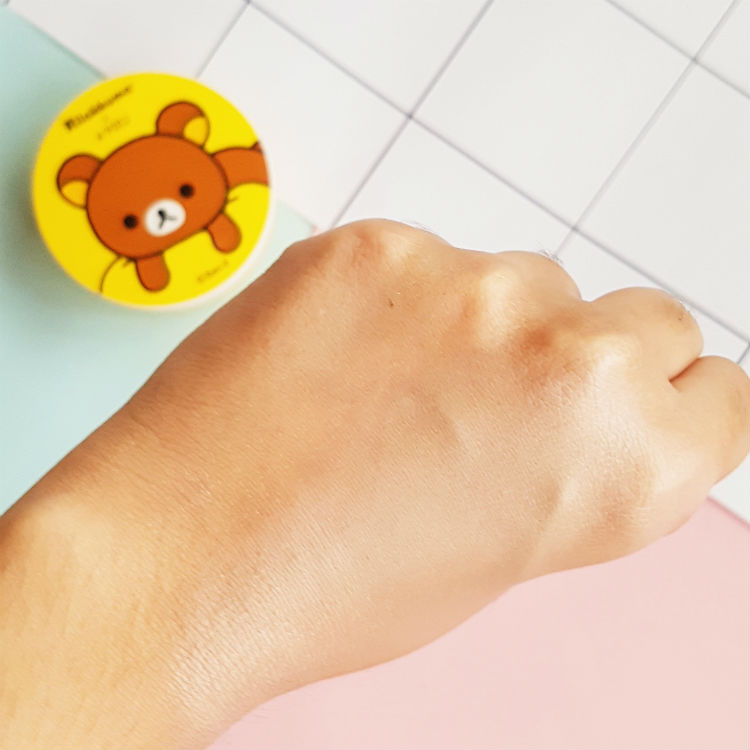 VERDICT
PROS: It has a semi-matte finish that's a little dewy so it's good for any skin type. It also has a good coverage, non-sticky and doesn't cake. It also contains rose water and collagen so this cushion doesn't only make you look beautiful, it also takes care of your skin.
CONS: A'Pieu only have 2 shades which are too pale and ashy for those with brown skin. This is also not recommended for those with acne-prone skin because you might end up with a breakout like me.
WHERE TO BUY?
You can buy this exact A'Pieu Air Fit Cushion set with Rilkumma case in Style Korean for $15 only. They ship internationally and offer free international shipping in a certain amount of order.
What do you think of this A'Pieu Air Fit Cushion review? Have you used a cushion compact before? What's your favorite? Share it all below!