There was so much hype when Rihanna launched her makeup line because her foundation has 40 freakin' shades! I'm not usually jumping on the bandwagon whenever a celebrity launches a makeup line because most of the time the products end up disappointing and only rely the sales on their names. But is that the case with Rihanna's line? Keep reading my Fenty Beauty Pro Filt'r Soft Matte Longwear Foundation review to know more.
WHAT IS IT?
Fenty Beauty Pro Filt'r Soft Matte Longwear Foundation promises to gives skin an instantly smooth, pore-diffused, shine-free finish that easily builds to your ideal coverage. The oil-free formula is made with climate-adaptive technology that's resistant to sweat and humidity, and won't clog pores so that wherever you are, it's going to work on your skin. Lastly, it claims to be long-wearing, the light-as-air texture is undetectable on the skin and has buildable medium-to-full coverage. And oh! It's 100% cruelty-free.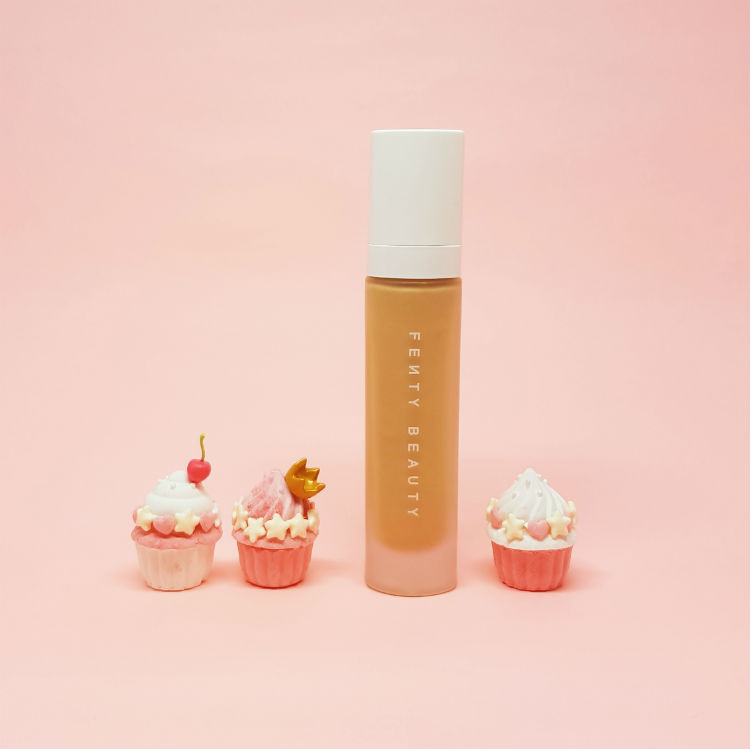 PERFORMANCE
APPLICATION: The moment you open the packaging it says to shake it before use. And never forget! Always shake the bottle before use to activate or else you'll get a less tinted product. Then apply adequate amount on your skin using your fingers, a beauty blender or a brush, whatever makes you feel more useful for you. Personally, I only use my fingers because I'm lazy, beauty blenders absorbs so much of this foundation, and brushes irritate my skin. You can add more layers for full coverage.
SCENT: It smells like vanilla, a strong scent of vanilla. Almost like a vanilla extract.
PACKAGING: It is packaged in a glass bottle with a pump which I both love and hate. I hate that the bottle is heavy because I'm clumsy so I'm afraid I may break it. But I love it because it has a pump. If you use Estee Lauder Double Wear or Clinique Superbalanced then you know the struggle! You tilt it too high you get too much, you gently tilt it you get too little. And when you're in a hurry, you'll often get too much. While the box, to be honest, was kind of a letdown. It's not ugly, but it's not attractive either. Just mediocre.
FORMULA: The consistency is more of an essence or serum, too light than those average foundations. It's a bit watery but not too light, but not that thick either, just enough for a coverage and not to clog pores. I like that it's not sticky as well and easy to spread as long as it's still wet because you have to be a little fast in applying this because it dries FAST! When it's dry, you can no longer spread it. Lastly, this one oxidizes, meaning it darkens on your skin around 2 minutes.
RESULTS: I'm acidic so I always buy foundations two shades lighter than my actual shade and with Fenty Beauty's 40 shades, it was overwhelming! Normally, I just have difficulty finding the right shade that will not turn orange on my acidic skin but with the Pro Filt'r Soft Matte Longwear Foundation, I just don't only need to know how many shades lighter, I need to know the right undertone as well. I was contemplating if I should get the 290 Neutral Olive or the 300 Neutral Tan which both match my skin when it oxidizes, but Fenty Beauty's tips were if you can't pick between 2 shades, pick the lightest one. And so I choose the 290 and thank goodness it was the right shade!
FYI: I bought this online because Sephora Philippines is only an online shop. But I also consulted my friend who bought and actually swatched this foundation in Sephora Malaysia
One layer gives me medium coverage, but it takes me at least 3-4 layers to get a full coverage. And I HIGHLY RECOMMEND that you moisturized your skin and use a moisturizing or hydrating primer (without silicone as much as possible) before applying this foundation because even with my oily skin this foundation highlighted my dry patches. I actually hated this when I first used it. I was like, "WTF?! I had so much effort and paid that much for this crappy foundation?!" but with the right primer, I actually find this one of the best foundations I ever used for the reason: This is the only foundation that truly matches my Filipino brown skin. All other foundations I love from L'oreal, Maybelline, Revlon, Too Faced and more all have good quality formulas but the shades are always too ashy for my skin.
The formula is just light on the skin which is great for those who dislike wearing foundation. And lastly, we all have preferences when it comes to "long-wear" formulas, but this foundation lasts up to 5 hours on my oily skin in a hot and humid country which is great in my opinion.
On my first night out using Fenty Beauty foundation (which is my second time using it), I found out it works best on my priming spray mist like a MAC 'Prep + Prime' Fix+ Finishing Mist. And look how smooth my skin looks like! At first, I look pale but after 5 minutes, it oxidizes and looks like my actual skin. I left at 6 PM and didn't retouch after that. When I got home at 1 AM and took a selfie, I noticed the dark spots and oil were back.
VERDICT
PROS: If you got the right shade, it will look like your actual skin but smoother and flawless, which is what foundations should be. I love that it's super lightweight, long-wearing, and non-sticky it is. I love that it also prevents your oily skin from looking greasy.
CONS: Not recommended for those with dry skin because I have oily skin but I still need to moisturize and prime my skin for smoother application and to prevent my dry patches to appear. And finding the right shade can be overwhelming. Just make sure you know you're shade's undertone.
FINAL THOUGHTS: For the first time ever it's a foundation that didn't look ashy on my Filipino brown skin. Plus, it makes my skin look so smooth like I use some Asian beauty camera filter. So yes, I'm willing to purchase this again. For me, it's worth all the hype.
TIPS: Some people hate this foundation because they claim it highlights their dry patches and flaws rather than cover them, I say, if you have this and hate it: Try to using this again with priming spray mist like a MAC 'Prep + Prime' Fix+ Finishing Mist or the Fenty Beauty primer, or any primer that doesn't contain silicone. If you have dry skin, try applying a layer of moisturizer before primer and look at the result.
WHERE TO BUY?
You can buy Fenty Beauty Pro Filt'r Soft Matte Longwear Foundation in Sephora branches and online for $34. But in Sephora Philippines, it cost Php1950 and you'll get free shipping. And you can also check these other shops where you could buy Fenty Beauty locally.
What do you think of this Fenty Beauty Pro Filt'r Soft Matte Longwear Foundation review? Have you tried it or you have more questions before purchasing it? Share it below!