Whenever I use this, I just can't stop ????Look for the bare necessities the simple bare necessities, forget about your worries and your strife. I mean the bare necessities, old Mother Nature's recipes that bring the bare necessities of life. ???? Yes, I can't stop singing that Jungle Book song, it's stuck in my head. Anyway, back to my Human Nature Bare Necessity Cleansing Balm review, this is actually the first ever product I've tried in Human Nature. Although I've seen them around for years now, and it's been recommended by my friends, I never really bothered to try them. Until now, because they recently released a cleansing balm and it's one of the trendiest skincare product that I still haven't tried. So did it live up to my expectations? Is it as good as those from K-beauty brands? Keep reading to know more.
But first, a little background about the brand…
Human Nature is a pro-environment and pro-poor brand. They sourced several raw materials at above-market prices from rural low-income communities in the Philippines and provided them with livelihood training, farming, and processing equipment.
They're also a member of the Natural Products Association (NPA), the authority on the natural products industry in the United States upholding the strictest criteria of natural claims worldwide. Lastly, Ecovia Intelligence (Organic Monitor) – a global consulting institution for the natural and organic beauty industry – gave Human Nature the Sustainability Pioneer Award: a first for any Asian beauty brand.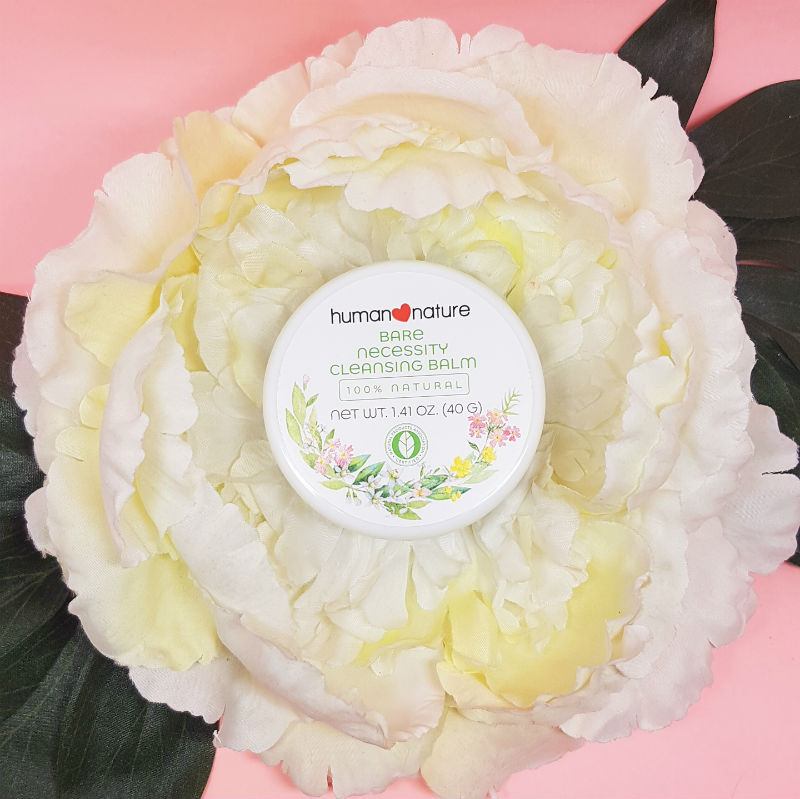 What is it?
Human Nature Bare Necessity Cleansing Balm is basically a solidified cleansing oil that claims to melt your makeup without the mess, and also nutrient cleansing. It will remove long-wearing and waterproof makeup – even stubborn mascara, liquid foundation, gel eyeliners and cheek stain – without stripping off your skin's natural oils and reveal a soft, dewy canvas. Be barefaced beautiful with the nourishment and hydration of virgin coconut oil. It's travel-friendly and said to last up to 80 uses. And oh! It's 100% Natural, mineral oil-free, paraben-free, and synthetic fragrance-free.
What's in it?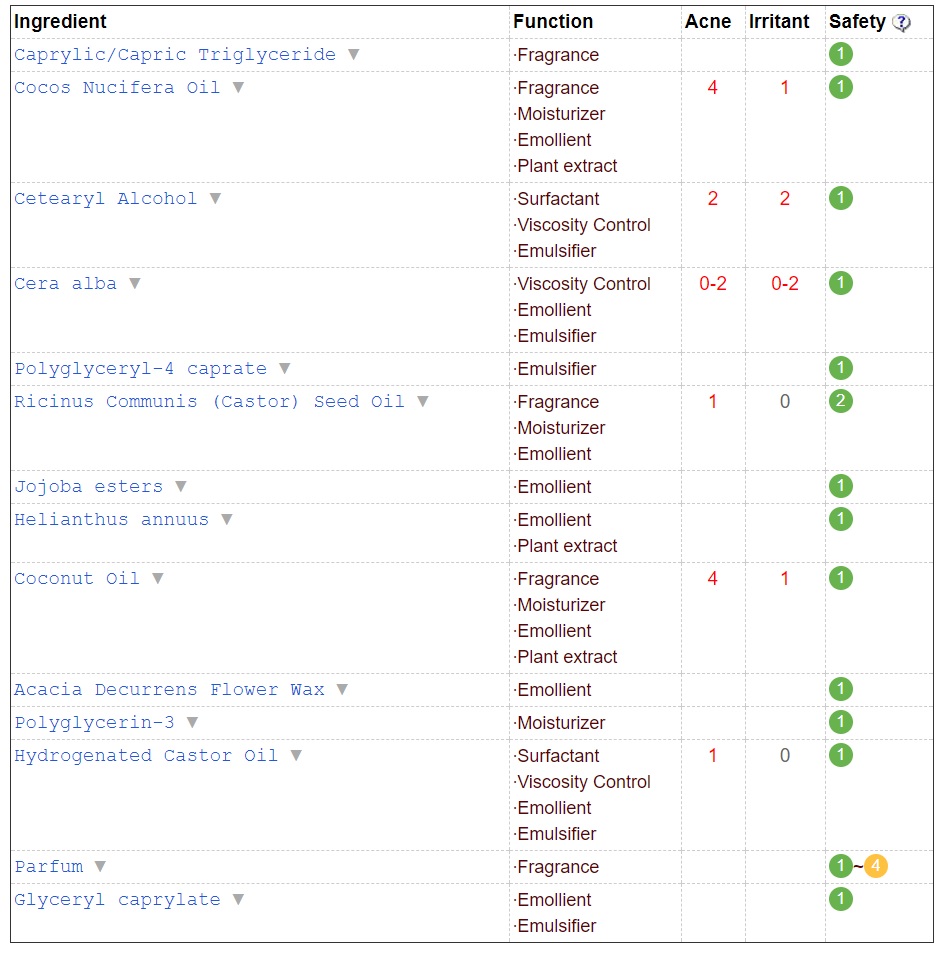 You can read more about it in the CosDNA Analysis.
Performance
APPLICATION: Take a scoop of the balm using the spatula provided. Put an adequate amount of the product on the following points: your forehead, nose, chin and each cheek. You may also include your neck if you apply makeup on it. Using clean hands, massage the balm onto dry face and neck in upward motions for 30 seconds to melt your makeup. And then wipe with a clean washcloth and wash thoroughly. But I'm lazy, so I just wash it off with water most of the time, and then proceed to the second step of my cleansing routine.
PACKAGING: It is packaged as is, but sealed on the sides, obviously! The sturdy plastic jar's design is simple but does not feel cheap at all. And I love that the spatula is stored inside between the cap and the balm cover, so there's no way I could lose it.
SCENT: It smells so yummy like a Strawberry Fruitella! To those not familiar with it, it's a chewy candy.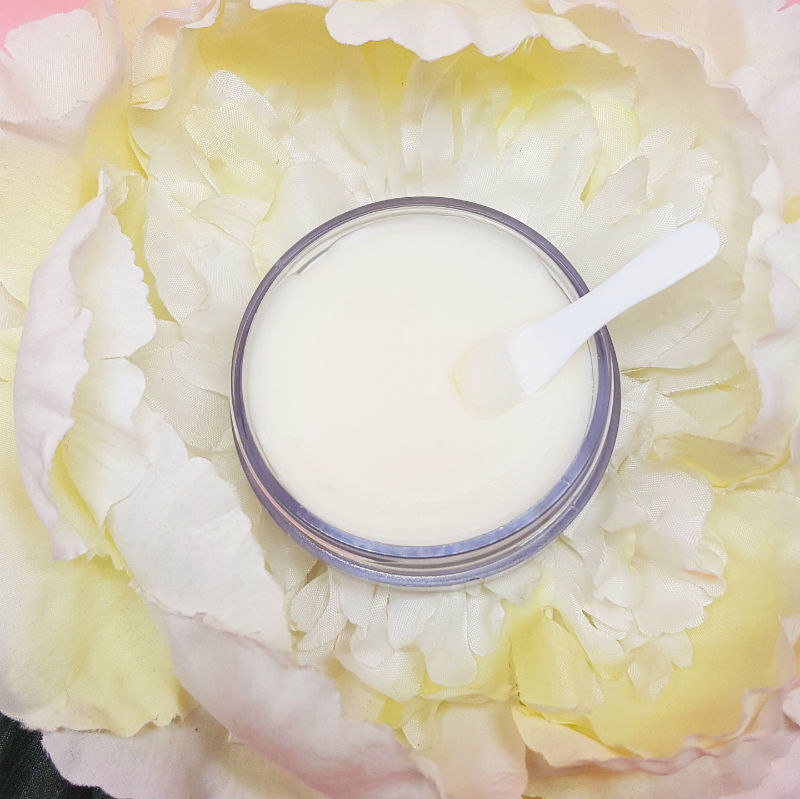 RESULTS: This is the first time I ever use a cleansing balm, but I'm not new to oil cleansing. I'm aware this is solidified oil but I didn't expect that this one is like scooping a one-month-old Nutella. I thought this will be smoother like a lip balm. It's actually kinda hard, so you have to poke it with the pointy side of a spatula to scoop it. But it's all good because the moment I applied it on my skin, it started to melt like butter and it was easy to spread. But as time goes by, around a month, the balm will start to soften and it will be easier to scoop.
While I rubbed it around the makeup, I noticed the texture is becoming more like jelly, it feels so smooth and smells lovely. On my test below, I used products that are waterproof or just hard to remove. I thought it wasn't working at first because I'm trying to totally erase the makeup with the cleansing balm alone (again, this is my first time using this kind of cleanser). But the moment I put my wrists on running water, the makeup was banishing until it's completely clean free of makeup. Although the Keep in Touch Eyebrow Serum is still a little bit there.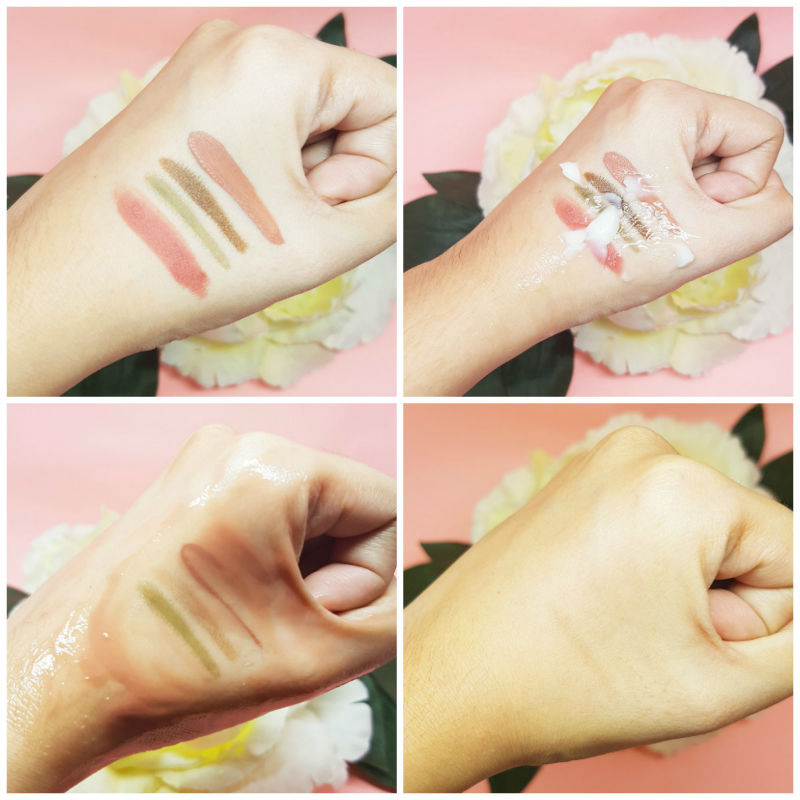 However, I noticed the balm is kinda hard to remove on the skin especially on the face with heavy makeup. Yes, it can remove waterproof makeup, but I need a towel or a facial tissue to help remove it. And then I apply more Bare Necessity Cleansing Balm again and then rub it with a towel or facial tissue again until I can no longer see pigment of makeup because if I only relied on the balm alone, it doesn't remove the makeup entirely. Plus, it doesn't emulsify too. Lastly, the balm is hard to remove with just water, you'll need a good foaming cleanser to completely remove it. Unfortunately, I don't use foaming cleansers because I'm allergic to foaming agents, I only use Cetaphil so I need a cleansing water to completely remove it from my face.
Verdict
PROS: It's 100% natural and organic product, it cleans the skin really well by melting the makeup. It leaves your skin very smooth and smells nice.
CONS: It melts makeup but you need a towel or a facial tissue to help it. Plus, it leaves an oily residue on your face that's hard to remove. It doesn't emulsify. Lastly, someone also told me she broke out because of this product, personally, I'm not sure yet if this product is the cause of the small bumps on my face.
Where to buy?
You can buy Human Nature Bare Necessity Cleansing Balm in the official Human Nature outlets or dealers and on their official website here for Php345 or US$7. They ship in the Philippines, United States, Canada, Singapore, Malaysia, UAE, and more.
And now, let's all sing The Bare Necessities! Which, let's be honest, the best song about life.
What do you think of the Human Nature Bare Necessity Cleansing Balm review? Do you use a cleansing balm? If yes, what is your favorite? Share it below!