People asked for this, so here it is! Last week, after I posted my Vice Cosmetics review, I noticed some readers stumbled upon my site by doing a Google search of "BLK Cosmetics vs Vice Cosmetics" and so I did a poll in my Instagram Stories if anyone wants me to actually write it. Obviously, a majority of my followers wants it. Whew! I had a De Ja Vu while writing this, it resembles my Kylie Cosmetics vs Coloupop.
But before you scroll down and read the comparison between the two brands, I would like to say that this post is written out of curiosity and to fulfill the request of my readers. I don't want to stir anything negative between the two brands of two amazing celebrities.
Also, I will only focus on BLK's lipstick line only because as of the moment, Vice Cosmetics only sell lipsticks. To read the reviews of their other products, see my BLK Cosmetics review last month.
Which lipsticks are the best?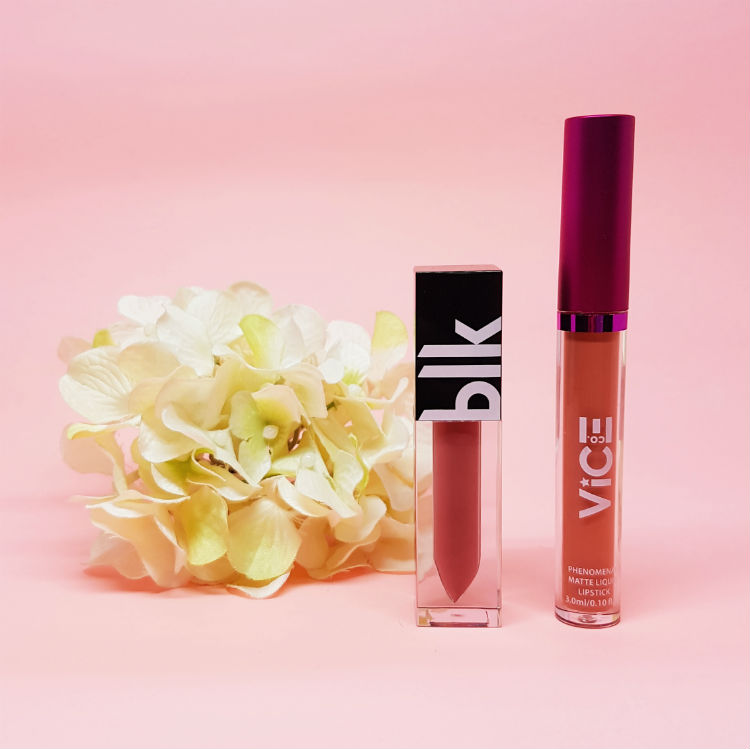 BLK LONG-LASTING MATTE LIQUID LIPSTICK vs. VICE COSMETICS LIQUID LIP KIT
FORMULA: BLK's formula is sticky at first and it takes a while to dry. But when it dries, it'll really feel dry on your lips. While Vice Cosmetic's formula resembles NYX Soft Matte Lip Cream a lot. It feels creamy on your lips like you're applying butter, but it also dries really good without feeling like your lips are dehydrated.
SCENT: BLK is unscented while Vice smells like buttercream with a stronger vanilla scent.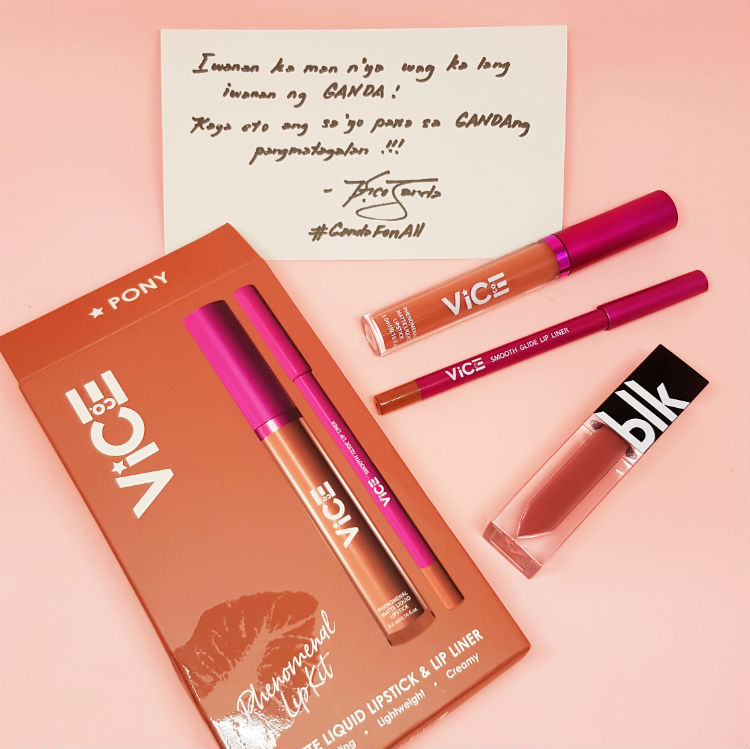 PACKAGING: BLK is packaged as is, with only a plastic wrapper. While Vice Cosmetics comes with a large box, lip liner, and a personal letter from Vice Ganda.
RESULTS

I both tested BLK and Vice on running water, and both survived. After I towel dry my arm which is still a little damp, I smudged them. Both got some few pigments erased.
But if you're not going to eat something oily, or an ice cream, both products are transfer-proof, smudge-proof, and long-lasting. The difference is the Vice Cosmetics liquid lipstick is less drying than BLK.
PRICES: BLK Long-Lasting Liquid Matte Lipstick is Php395, while Vice Cosmetics Liquid Lip Kit is Php295 and the lip liner is already included in that price.
VERDICT
PACKAGING: Even though the Vice Cosmetics have a box and a postcard, the packaging winner for me is BLK because it looks so elegant, chic, and expensive than it actually is. It's different from most liquid lipsticks on the market.
FORMULA: Vice Cosmetics won here because it's less drying.
WINNER: For me, Vice Cosmetics is the winner because of their formula. Plus, you already have a lip liner to prevent your liquid lipstick from feathering for the price of the only Php295!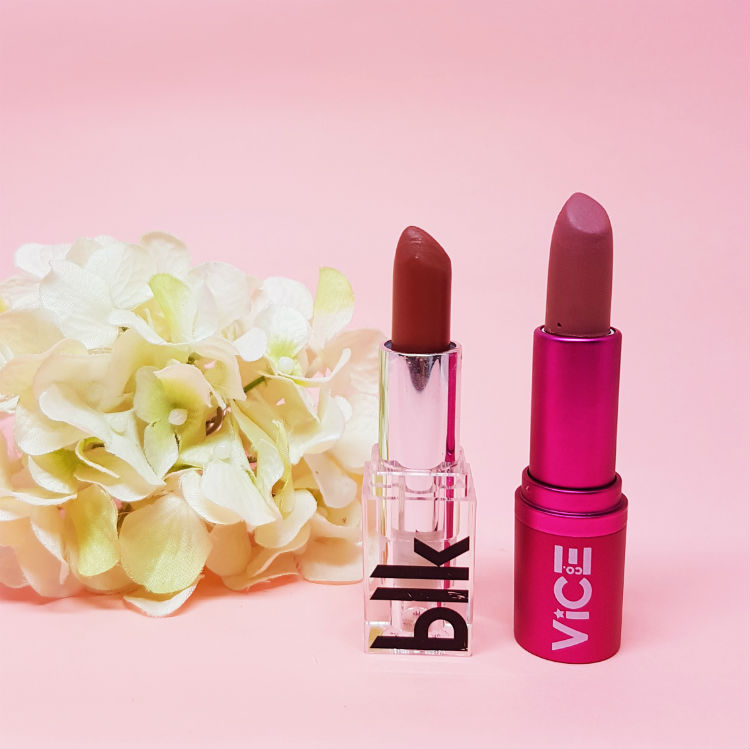 BLK ALL-DAY INTENSE MATTE LIPSTICK vs. VICE COSMETICS GOOD VIBES MATTE LIPSTICK
FORMULA: BLK's all-day matte lipstick this time is creamier than Vice Cosmetics Good Vibes matte lipstick's formula. BLK feels softer on the lips and easy to swipe, while Vice Cosmetics feels dry and heavy. And you have to put a little effort in wiping it on your lips.
SCENT: BLK is unscented while Vice Cosmetics has the same buttercream with strong vanilla scent.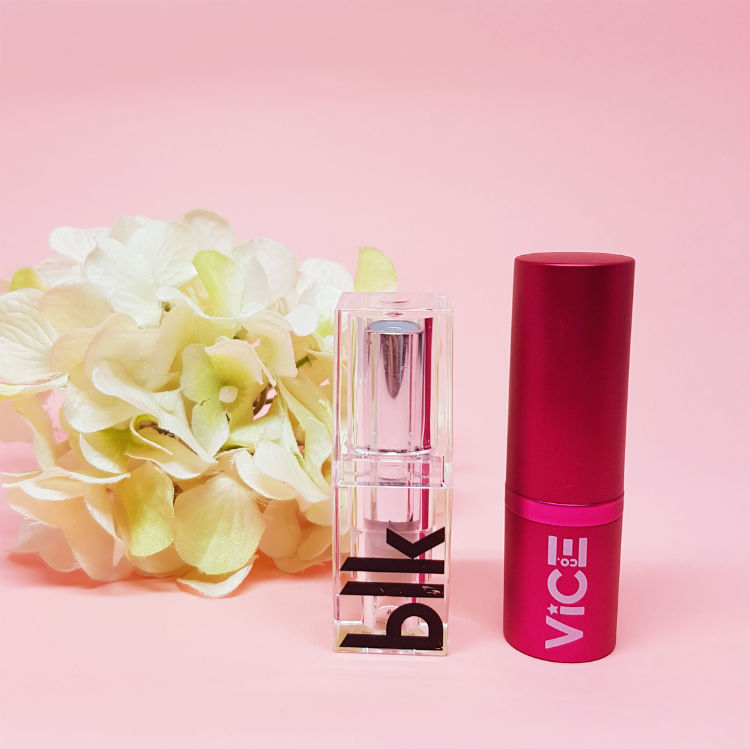 PACKAGING: Both packaged as is, with only plastic wrappers. BLK is shorter but both have the same amount of 3.6g of product.
RESULTS
Just like the test I did on the liquid lipsticks, both the BLK and Vice Cosmetic's matte lipsticks stayed on even when rinsed under running water. But after I towel dry them, and then smudged them while a little damp, both were almost erased.
PRICES: BLK cost Php299 while Vice Cosmetic cost Php195
VERDICT
PACKAGING: I like BLK's clear, minimalist and elegant packaging, but when it comes to the design of the matte lipsticks, I'm loving Vice Cosmetic's all-pink simple design.
FORMULA: BLK matte lipstick's formula feels smooth on the lips, lightweight, and high-pigmented. One swipe will already give you a full coverage. While the Vice Cosmetics also have intense color, it's a little difficult to apply because the formula is a bit thick and it feels dry on the lips.
WINNER: In this one, despite its price, the BLK is the obvious winner.
Where to buy?
First of all, you can both read the full review of my BLK Cosmetics here, and the Vice Cosmetics here.
You can buy BLK Cosmetics in Zalora Philippines or on their official website, BLKcosmetics.com.ph and in select Watsons and SM Department Store nationwide.
While you can buy Vice Cosmetics in Beauty MNL or on their official website, ViceCosmetics.com.ph And you can also buy them in their official stores in Trinoma, Farmer's Market, Market! Market! and selected SM Department Stores: North Edsa, Fairview, Masinag, and Megamall. But according to their Facebook page, they will be available in Watson very soon.
BLK Cosmetics vs Vice Cosmetics: Which one is the winner? Well, as I always say, I tried it. I reviewed it. The rest is up to you! ????