I don't usually buy hair care products from Koren beauty brands because I had a lot of disappointing experience with them, but this one made me change my mind. Keep reading my CFC Lab Argan Glow Hair Oil review to know more.
What is it?
CFC Lab Argan Glow Hair Oil has a light formula without the stickiness. It has a fresh sweet scent of grapefruit, and makes the hair feel so soft! It works as a coat so the hair will be prevented from damage, gives it glow, and moisturizes. It contains Vitamin E from Argan Oil, the antioxidant from Carrot Seed Oil, protein and lecithin from Sunflower Seed Oil, and Vitamin C from Sclerocarya Birrea Seed Oil.
Performance
APPLICATION: There are three uses for the CFC Lab Argan Glow Hair Oil.
Everyday Use: After washing your hair, dry it with a towel (so that it's not dripping wet), and pump an Argan Glow Hair Oil on your palm in a size of a coin. And then, apply it lightly on your hair.
Hair Treatment: Put a few drops of Argan Glow Hair Oil on your favorite hair treatment, massage the mixture while applying it on your hair, and then leave it on for 5-10 minutes before rinsing it with water.
After Hair Procedures: After a chemical procedure such as perms or dyes, pump an Argan Glow Hair Oil on your palm in a size of a coin and apply it lightly on your hair.
SCENT: It has a lovely scent of grapefruit that surprisingly smells fresh rather than synthetic, unlike most hair products.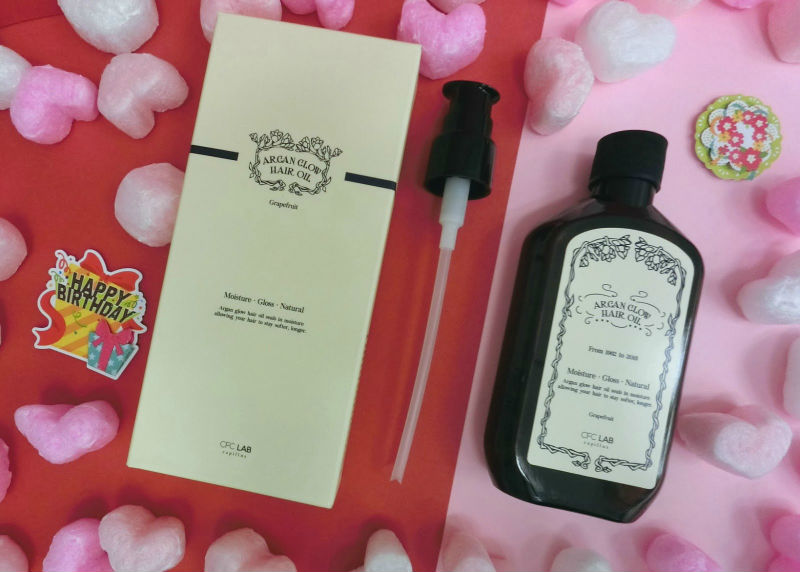 PACKAGING: The CFC Lab Argan Glow Hair Oil is packaged in a box that kinda resembles from vintage beauty product from the 1950's. The bottle looks like it's from the 1950's as well. It has a regular bottle cap, but it also comes with an extra pump and bottle cap. Meaning you can either use this product as a treatment or an everyday hair protection.
RESULTS: This is, by far, the best hair oil I've ever used. It's oil but it's not sticky and does not feel warm even if you live in a humid tropical country, unlike other hair oils I've used. One time I ran out of conditioner, and I only applied CFC Lab Argan Glow Hair Oil after a shower and I was thrilled how soft my hair was. It's like I actually conditioned my hair.
As some of you may know, I bleach and dye my hair, and this is my go-to hair oil after a grueling chemical process and my hair never looks dry or damaged.
Verdict
PROS: Smells good, moisturized your hair, gives a lovely glow, and does not feel sticky at all!
CONS: It's hard to find if you don't live in Asia. (But I know a store that ships in the US.)
Where to buy?
You can CFC Lab Argan Glow Hair Oil in Althea for Php520. They ship in the Philippines, Malaysia, Singapore, Indonesia, Thailand, Vietnam, and they also ship now in the US.
But if you're not familiar with Althea yet and lives in the US or the UK, you can try these other highly-rated Argan Hair Oils:

What do you think of CFC Lab Argan Hair Oil review? Do you use a hair oil? Share it below!