Because I love how much the It's Skin Power 10 Formula VB Effector improved my skin I decided to buy another serum from their brand. After a few research, I stumbled upon another It's Skin product that was formulated for someone with oily skin like me so I immediately added it to my cart. With high expectations, did it live up to it? Read the rest of my It's Skin Power 10 Formula Q10 Effector review to know.
What is it?
It's Skin Power 10 Formula Q10 Effector is a fast-acting and highly potent enriched ampoule serum that contains Co-enzyme Q10 microcapsule and PGA, a high-energy component that helps restore the skin's vitality and resilience.
INGREDIENTS: Water, Butylene glycol, Glycerin, polyglutamic acid, pseudoalteromonas ferment extract, astaxanthin, lactose, carbomer, triethanolamine, methylparaben, cellulose, tocopheryl acetate, chlorphenesin, Fragrance, Disodium EDTA, Tocopherol, Ubiquinone, cholesterol, ceramide 3, hydroxypropyl methylcellulose, iron oxides (ci 77492), BHT, caprylic/capric triglyceride, phospholipids.
Performance
APPLICATION: After adjusting your skin with toner, apply 2-3 drops onto palm and gently pat it on your face and neck until it fully absorbed.
SCENT: It actually has the same scent as the VB Effector, a mild floral.
PACKAGING: The bottle is packaged as is and wrapped with plastic and a protector for the dropper. Nothing luxurious to it, but the glass bottle feels a little fancy. Just make sure you won't drop it. The dropper is also made of glass and a little bend on the end.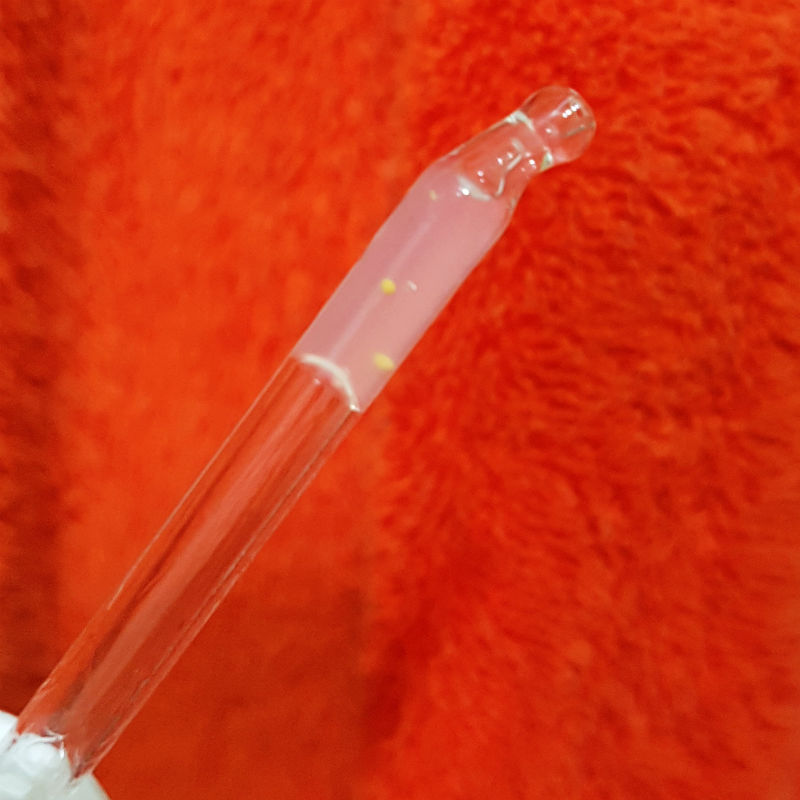 RESULTS: The It's Skin Power 10 Formula Q10 Effector is more like an ampoule than a serum. It's a bit cloudy and has thicker gel-like consistency compared to the VB Effector. Spreading it on the face takes extra effort, but I love that it is not oily. As you could see from the photo above, it has tiny yellow beads but it easily dissolves on your skin as you massage the serum.
I used this serum alternately with the VB Effector Serum and after a week of using this, I noticed that my skin is less dull like I actually have enough sleep. I like it, however, I started breaking out again. At first, I refuse to accept that this serum was the cause because as I have mentioned many times, I love this brand's other serum so much. But then I stopped using it for a week just to make sure, my breakout was controlled and banished and then I used it again for a week. The moment I resumed using this serum again, I started breaking out again, so no more denial, this Q10 Effector is really the culprit. Which proves just because one product from a brand you like works for you doesn't mean their other products will also work on you. Just like because one product improved another person's skin, it doesn't mean it will also work the same with you.
VERDICT
PROS: It energizes your skin, and gives anti-aging benefits. Non-oily so it's perfect for those who live in a humid country.
CONS: Not suitable for those with acne-prone skin.
Will I buy it again? Obviously not. Despite it makes my skin look energize, I have acne-prone skin. So I didn't finish the bottle and gave it to my friend who has opposite skin type as mine. So far I didn't hear any complaints from her regarding the product.
Where to buy?
You can buy It's Skin Power 10 Formula Q10 Effector in StyleKorean for $14. They ship internationally and you can get free samples for every purchase.
OTHER SHOPS:
I actually bought my It's Skin Power 10 Formula Q10 Effector from Althea for Php390. They ship in the ship in the Philippines, Malaysia, Singapore, Indonesia, Thailand, and even in the United States. You can also get up to Php200 off on your first order when you signed up using my invitation.
If you like in the US and UK, you can also buy this in Yes Style for $15.
So if you're looking for the price-savviest skincare innovations check out the best Korean moisturizer.
What do you think of It's Skin Power 10 Formula Q10 Effector? Does it skin your skin? Share it below!