I don't know if you notice, but face masks are having a huge moment right now. From clay, sheet, peeling, and more that I couldn't think of right now are all over beauty shops. They all have different uses and promises almost the same results which are mostly "flawless skin" but some do not really work like the others. Keep reading my Chica Y Chico Topping Star Mask review to know is it worth buying or just move on to another mask.
What is it?
Chica Y Chico Topping Star Mask promises to revive your skin and tighten pores in 10 minutes. It contains carbonic acid that discharges all kinds of waste from deep inside. It's a deep cleaning, pore-caring, tone-up and soothing all-in-one mask. It promises to clean excess sebum and perfectly removes wastes in the pores.
PERFORMANCE
APPLICATION: After tearing off the cap of Topping Star Mask, pour the Topping Star Powder into it. Using the brush, mix it well for 10 seconds. Apply it from broad to narrow surface of your face, before the sparkling sound dies down. And then leave it for 5-10 minutes, then rinse with warm water.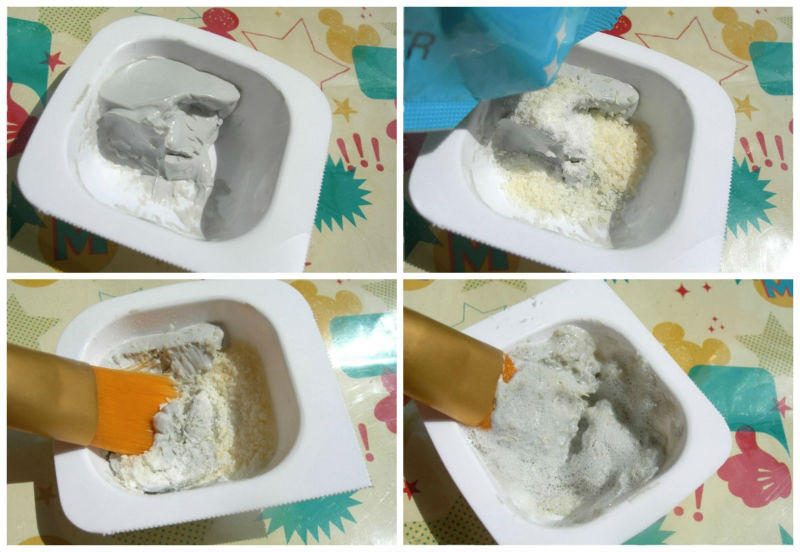 SCENT: Some people said it smelled like donuts, but personally I think I smelled carton. I wasn't a fan of the scent of this mask.
PACKAGING: The Chica Y Chico Topping Star Mask set contains 12 packs of 7g clay masks, 12 sticks of 7g powder, and 1 brush to help you apply the mask. I really like the packaging, from the blue box like it's some kind of a beauty subscription box, the cap which looks like you're opening a candy instead of a mask, and the powder sachets that reminds me of popping candies.
RESULTS: There was a tingling feeling the moment I applied the mask on my face, and you can actually hear some popping sounds like those popping candies. The mask also forms into a thick bubble as you leave it on. It does not hurt, personally, I didn't feel any pain but I heard some people felt a little itchy on the process.
My skin felt really soft after using this mask, however, my pores weren't fully cleaned out like how the advertisement declares this product would do, which is the main reason why I bought this product. And after 3 uses, I noticed my face started feeling itchy after I wash off the face mask, and then bumps started forming on my face. Eventually, I had a breakout so I stopped using this product.
Verdict
PROS: It made my skin feels soft. The popping sounds and the mask forming into a bubble are kinda fun.
CONS: Does not really thoroughly clean your pores, and this is not suitable for those with sensitive skin because I ended up breaking out.
Will I buy this again? When you search this product online, there are really good reviews about it and I wish this product really worked that well on my skin but it didn't. And worst, I had a breakout. So no, I will not buy this again.
Where to buy?
If you're curious and don't have sensitive skin, you can purchase a set of Chica Y Chico Topping Star Mask in Style Korean for $31. They ship worldwide, offer free shipping, and freebies in every purchase.
What do you think of my Chica Y Chico Topping Star Mask review? What is your favorite face mask? Share it below!
**I didn't have a chance to take a photo of myself using this product, and I don't want to use it again after breaking out even for a photo for this review. So I decided to grab a photo from the website where I bought this product instead.