Are you tired of battling unwanted pimples and skin troubles? Me too, that's why I'm glad I found a much easier and simpler skin solution from CosRx! Whenever a certain product impresses me, I'll always look into their brand and try other more products they offer. That's what happened after I used CosRx Acne Pimple Master Patch, so I ended up buying two more products from them and even got one full-sized freebie. But I'll get into those later, in here, I'll only talk about my CosRx One Step Pimple Clear Pad review.
What is it?
CosRx One Step Pimple Clear Pad are pre-soaked in betaine salicylate (BHA) and willow bark water to chemically exfoliate without drying out your skin. It calms and soothes the skin while the active ingredients penetrate deeply into pores to dissolve oil and dead skin cells, which help in controlling breakouts. It contains 70 pads and not only are they good for the face but also recommended for blemishes on the chest and back.
INGREDIENTS: Salix Alba (Willow) Bark Water, Butylene Glycol, Glycerin, Betaine Salicylate, 1,2-Hexanediol, Arginine, PEG-60 Hydrogenated Castor Oil, Panthenol, Allantoin, Ethyl Hexanediol, Citrus Aurantium Dulcis (Orange) Peel Oil, Melaleuca Alternifolia (Tea Tree) Leaf Oil, Sodium Hydroxide, Sodium Hyaluronate.
Performance
APPLICATION: Swipe a pre-moisturized pad gently over face avoiding eye area after cleansing. When using for a specific target area such as the nose, forehead, or chin, be careful not to irritate other parts and try to lightly wipe at only the oily or troublesome area. You do not need to rinse off. Just continue with your normal skin care routine. Replace the lid tightly to make sure the pads stay wet and clean. Use up to 2-3 times per day for those with normal or oily skin types. While 1-2 times use per day is recommended for dry skin or for teenagers.
SCENT: It smells like peppermint, it does not sting your nose.
PACKAGING: The CosRx One Step Pimple Clear Pad are stored in a hard plastic jar with an aluminum cover inside for extra coverage and to keep the moisture. I like it that they made an effort to make it look cute with an illustration of a weird man cleaning his face with the clear pads. The only thing I don't like is that it's too bulky for traveling. While the box, it looks nice but nothing special about it besides mentioning that this product was featured and won in "Get It Beauty." For those of you who aren't familiar with it, it's a Korean Variety show about the latest in Korean Beauty. For those who live in Asia and does not have TvN on their cables, you can watch it on the Viu App.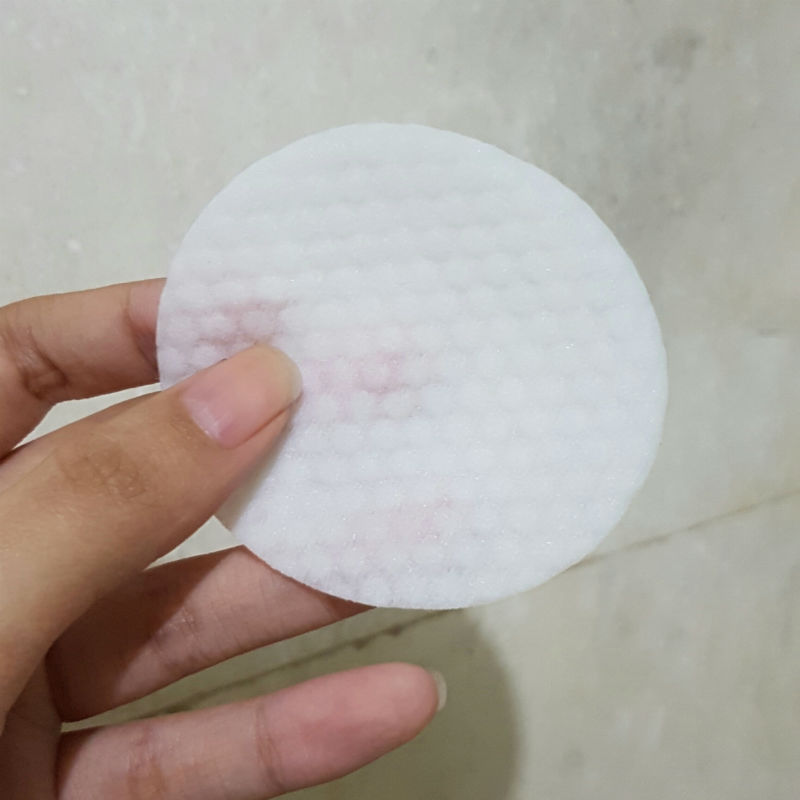 RESULT: CosRx One Step Pimple Clear Pad is easy to use, anytime & everywhere, perfect for on-the-go and emergencies. I actually bring this along when I travel because it's convenient. Even though the packaging is bulky, you don't need to bring cotton pads, you just grab one of these and ready to use.
If you could see clearly from the photo, one side of the pad is embossed which helps with the exfoliation, regulates sebum production, and removes impurities. While the other side is smooth which helps hydrates, promotes smoother skin, and improves facial skin texture.
Also, whenever my skin feels like it's irritating, or just itchy from something I ate, I just swipe a pad on my face. It calms my skin instantly, the irritation is gone. It also helps lessen my breakout and prevents pimples. It does not sting, nor painful. Despite being an exfoliant, it doesn't warm up your face either, in fact, in cools it down. I use CosRx One Step Pimple Clear Pad every other day, I alternately use it with Pixi Glow Tonic.
Verdict
PROS: It exfoliates, regulates sebum, removes impurities, hydrates, and smoothes the skin. You can use it on your face and body and calms your skin when irritated. I actually even use this on my armpits! Lastly, it's pre-soaked pads so it's travel-friendly. No need to bring along cotton pads with you.
CONS: Ironically, the jar is actually too big though for travel. So you'll need a bigger vanity bag. You also have to make sure the jar is sealed well or else the pads will end up dry.
Where to buy?
You can buy CosRx One Step Pimple Clear Pad in StyleKorean for $19. They ship internationally and you can get free samples for every purchase.
OTHER SHOPS:
If you live in the US, Australia, Canada, France, India, Ireland, Italy, Malaysia, New Zealand, Norway, Poland, Spain, Sweden, Switzerland, and the Uk, you can buy CosRX One Step Pimple Pad from Soko Glam for $19.
This is also available in Revolve for $20. They also offer free international shipping on orders $100 and above.
You can also buy this Lazada for Php710 and in BeautyMNL for Php900.
This product is also available in Yes Style for $21.
What do you think of this CosRx One Step Pimple Clear Pad review? Would you try it? Share your comments below!
*This product may or may not help you. If the pimple persists, you may need to know the type of pimple you have or better, consult a doctor.