This week, I was really looking forward to writing a SkinnyMint Teatox review, it reminded me of my mother who is now a retired fitness consultant. Being fit never leaves her, it's her lifestyle! I was around 15-16 years old when she first put me through my first detox. It lasted for a week but it wasn't for the purpose of losing weight, according to her it was for "removing the toxins in my body" because I eat too much junk food, and god knows what else.
For those who aren't familiar with it, what exactly is a detox? Simply put, it is a process in which a person makes lifestyle changes to clear their body of toxins. These lifestyle changes typically involve abstaining from a certain food or following a cleansing diet.
Most people equate it with deprivation or other weird stuff, but the thing is, you don't really need to suffer. SkinnyMint Teatox is made of all-natural ingredients and is a tea detox program that is completed in 28 days in 2 easy steps.
STEP 1: Drink the Morning Boost each morning for 28 days. Kickstart your day with a boost of energy! The combination of high-performing ingredients is designed to make you feel amazing. It tastes fresh, fruity, and delicious. The main ingredients include Green Tea, Yerba Mate, and Guarana.
The Morning Boost contains caffeine, but the caffeine in tea is different than the caffeine in coffee, it's gentler on your system. This is actually my favorite, it gives me an instant pick-me-up minus the jitters which I really love. It's mostly made of green tea leaves but it does not taste exactly like my regular green tea, it's kinda minty and citrusy actually. You can add honey to it, but I love it plain.
Step 2: The Night Cleanse Tea is to drink every alternate night, to naturally cleanse the body and calm the mind. It is uniquely formulated as the perfect night-time ritual in your detox program. It contains natural cleansing ingredients and soothing elements to naturally detox the body. The main ingredients include Ginger Root, Lemongrass, Senna leaves, and Psyllium Husk.
I'm not familiar with the flavor of Senna leaves or Psyllium husk, but this tea is also minty and citrusy. You can add honey or lemon to it, but I actually prefer mixing it with condensed milk. I love the mix of its mint flavor with the sweet milk!
Actually, this one reminds me of tea for liver detox and the Chinese herbal tea that my mother used to drink. I highly recommend that you really follow its drinking instruction due to the laxative effect that may occur, especially if this is your first time doing a detox, ever! That "natural cleansing" is very effective in reducing bloating, but if you're not really keen on it there's a lite version, the Night Cleanse Tea would not have the Senna Leaves and Psyllium Husk which have a laxative effect.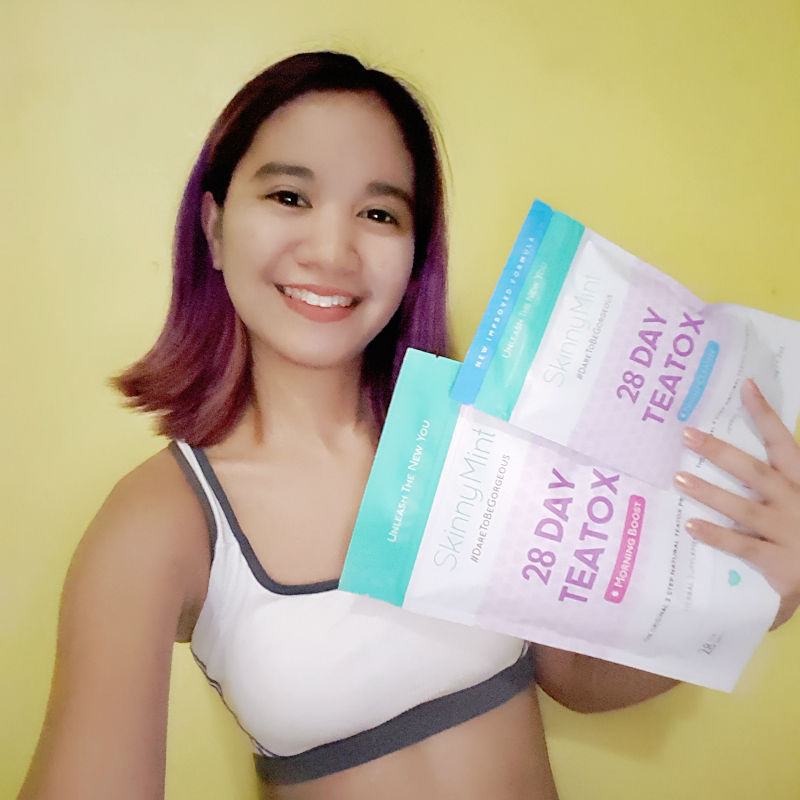 Does a detox diet really help you lose weight?
The theory behind detoxification is that our bodies can become overloaded with toxins that come from food, drinks, and the environment. So a seasonal detox is an effective way to clear your body of toxins, which will also speed up your metabolism, reduce bloating, and enhance your overall health.
Of course, this will be more effective if you pair it with regular exercise. You don't need to sign up for a gym membership immediately, you could start by taking the stairs instead of the elevator, or riding a bike when going to work. This could be fun activities as well, like signing up for dance or self-defense lessons, you not only get exercise but gain new skills in the process. Personally, I actually just signed up to Yoga classes and I can't wait to get back on track to living a healthy lifestyle.
What's Inside the Skinnymint 28-Day Ultimate Teatox Program?
Besides getting 1 pack of morning and night teas, you'll also get a booklet full of tips, a journey calendar that you could fill up with your fitness goals, and a magnet on your refrigerator so you're always reminded.
Where to buy?
You can buy SkinnyMint Teatox on their official website www.skinnymint.com. It cost $54.90 for a 28-Day Ultimate Teatox and $29.90 for a 14-Day Starter Teatox. If you live outside of the US, no problem, they ship worldwide too.
** This is a "sponsored post." The company who sponsored it compensated me via a cash payment, gift, or something else of value to write it. Regardless, I only recommend products or services I use personally and believe will be good for my readers. All thoughts and opinions are my own and not influenced by the brand or its affiliates.