In my quest to find a great liquid lipstick from an Asian beauty brand, I stumbled upon to another lip tint with a matte finish just like the matt lip I reviewed last week. But this one is a little different though, and I'm glad to say I have a more positive feedback with this one. Intrigued? Then you need to read the rest of this April Skin Fixing Tint review.
What is it?
April Skin Fixing Tint is an ultra-lasting lip lacquer with vibrant and illuminating colors. It drenches lips in highly pigmented, skin-enhancing hues; dries to a shine-free, matte finish; Color Fitting System creates a "wrapping" effect over pigments to prevent patchy tonnes; formulated with citrus Grandis peel oil, camellia japonica seed oil, and pseudoalteromonas ferment extract.
Performance
APPLICATION: April Skin Fixing Tint glides nicely on the lips, and gives an opaque matte finish. Although it dries up, unlike actual matte liquid lipsticks, it doesn't dry fast so it's a nice product for doing the ombre lips.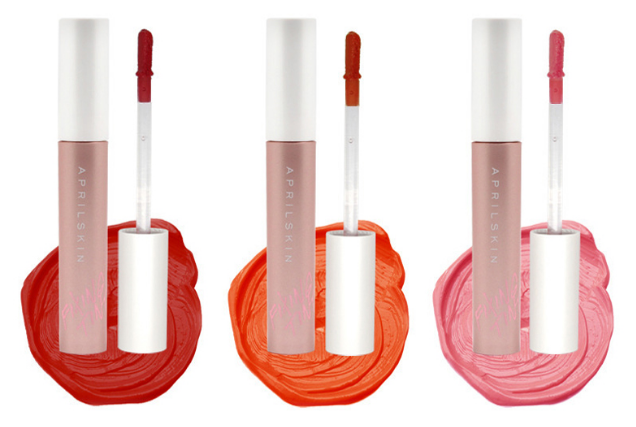 PACKAGING: It is packaged in a sleek and metallic box. The tube feels expensive too even though it's affordable. I also like the wand, it's thick and sturdy.
SMELL: Doesn't really have a particular scent, although it ain't bad either.
RESULTS: Unlike the other lip tint I tried, this one actually last longer, smudge-proof and transfer-proof as you could see below.
Verdict
PROS: It last long, smudge-proof, and waterproof.
CONS: It dries like a matte liquid lipstick and only 3 shades are available. For such a nice product, I wish they have more shades in nude, brown and pink with brown undertone.
Where to buy?
You can buy April Skin Fixing Tint in StyleKorean for $12. They ship internationally and you can get free samples for every purchase.
OTHER SHOPS:
I bought my April Skin Fixing Tint in Althea Korea for Php410. And you could sign up here and use my Althea coupon code "stylevanity" to get up to Php250 off discount. The ship in Asian countries and some Western countries as well. If you live in the Philipines, you could also buy this in BeautyMNL for Php595.
If you live in the US or UK, you can buy April Skin Fixing Tint on Yes Style for $12.
What do you think of the April Skin Fixing Tint review? Have you ever tried a lip tint with matte finish before? Share it below!