Looking for a makeup that will look effortless and natural but effective? Then you might be in the right blog post, this is Klairs bb cream review and it's concealer partner. Your long search for natural makeup is over.
What is it?
Klairs is a Korean beauty brand that has a slogan "Natural But Still Pretty" which I really love. Klairs Illumination Supple Blemish Cream is suitable for every skin tone, skin type, even sensitive and acne-prone. It aims to capture your natural skin tone color, to pull out the best of what you got underneath.
While the Klairs Creamy & Natural Fit Concealer contains natural ingredients and a safe, soothing formula for excellent coverage. It is made for even the most sensitive skin for the all-around hydrating coverage. Basically, their product's goal is to enhance your natural beauty.
Performance
APPLICATION: Klairs Illuminating Supple BB cream has SPF50+++ and a creamy consistency but not oily at all. It's easy to apply using your fingers, foam, makeup brush, silicone puff and a beauty blender. But I prefer a foam, specifically a puff like Beauty Blender. While the Klairs Creamy and Natural Fit Concealer have a thicker consistency than the BB cream. It has its own wand with a foam tip, like in lip gloss, to help you apply the product. But on spreading it all over my face, I prefer to use my fingers, it's kinda hard to control using a brush and foam.
PACKAGING: Klairs' packaging is really simple, which is not really common to Korean beauty brands that are popular with unconventional and super cute packaging. I also like that the instructions on the back of the BB cream are written in English which is not common on Korean brands, but the concealer has the same Korean letter. But I do love the message written on the BB cream, "You look so wonderful just the way you are. Be Natural" which is not often promoted by beauty brands.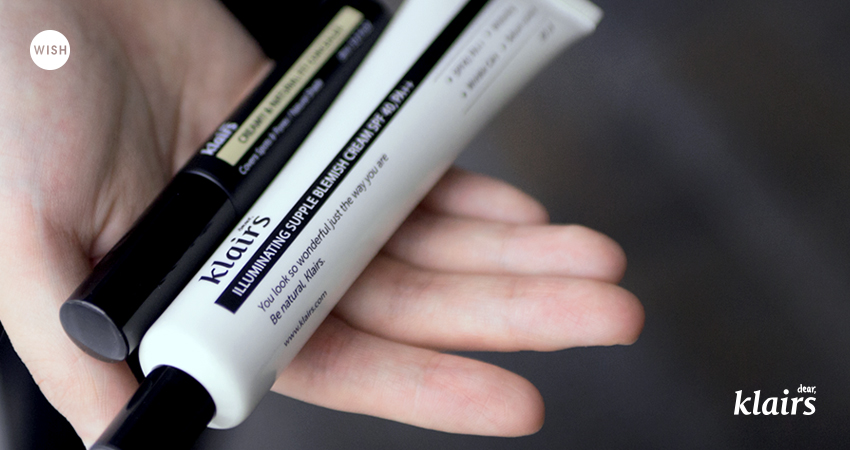 SMELL: Both the Klairs BB cream and concealer has a mild scent which what I really look for a product. I don't like a "WTF bold scents" on my beauty products, even on perfumes. So using them is a joy. The Illuminating Supper BB cream smells sweet and powdery, while the Creamy & Natural Fit Concealer smells like a minty jelly candy.
RESULTS: Both Klairs Illuminating Supple BB cream and Klairs Creamy and Natural Fit Concealer has ONE SHADE only. Which worries me because I have olive skin and Korean women are known to have porcelain white skin. I fear that the shade might not match my skin tone. But they claim The Klairs Illuminating Supple Blemish Cream "revolutionized the grayscale shade of many Korean BB creams." By that, I think it means it doesn't have good coverage, and I was right. The BB cream only has medium coverage, so if you have blemishes, depending on skin type and personal preference, it can be mixed with matte foundation.
But I think that's the reason why they also created Klairs Creamy & Natural Fit Concealer which hydrates and soothes while providing excellent coverage to conceal pores, blemishes, redness, and any target areas – ideal for even the most sensitive skin.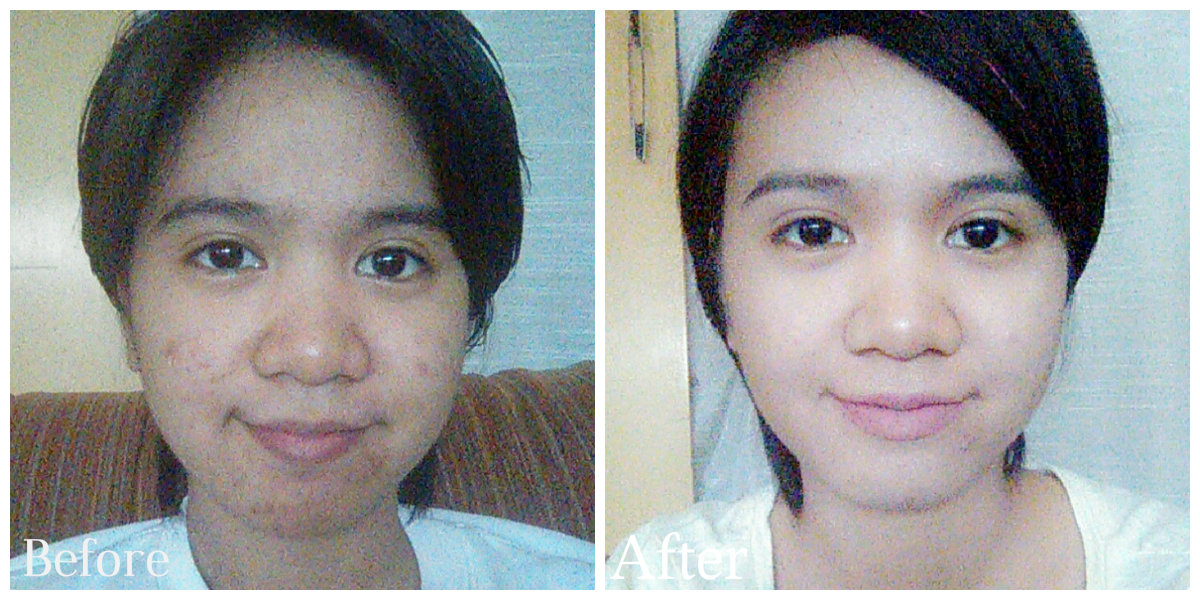 As you could see on my before and after photos, the Klairs BB cream smoothen my skin while the Klairs concealer really covered my blemishes. However, the shades, as expected, are too light for my actual skin tone. To even it out, I have to apply it on my neck because I don't want to be that person with a bright pale face and dark neck.
Another thing you should know, I have sensitive skin and currently have a bunch of dark spots left after my Chicken Pox was healed, and I also have a few acne. And this is where I f**k up, despite the warning on the back of the Klairs BB cream "to avoid using it on acne," I still did it and my breakout got from bad to worst! It's soooo bad, I needed to go to a dermatologist to get Acne Injections and Chemical Peel Treatment.
CONS: The Klairs BB cream doesn't do much cover unlike in other normal BB creams from other Korean brands, so this is for people with little blemishes or uses it with a concealer. The longevity is not that good either, especially if you have oily skin. Lastly, NEVER Ever use this if you have an acne or sensitive skin, you might get a breakout like me.
While the only thing I didn't like about the Klairs Concealer is, it has a thick consistency which kinda hard to spread on your face, you will need a little more effort.
PROS: The Klairs BB Cream is lightweight, the most lightweight BB cream I've used so it doesn't cake at all. And both the BB cream and concealer are hydrating without making you oily, but since I live in a very humid country, I still puff some powder above it. Lastly, the Klairs Concealer have good coverage, feels a little minty, and the small tubes goes a long way.
VERDICT: The brand is true to their slogan, it will really give you a natural look. However, the BB Cream gave me the worst breakout I've ever experienced in my life (no exaggeration) so I have to toss it, but my dad (yes, my father uses BB cream) used it and actually love it! I'm just glad it, at least, worked on someone in my house and it wasn't a total waste.
That being said, I like the Klairs Concealer, the coverage without being cakey. If I'm going to repurchase something, between the two, I choose the concealer.
FAQ
QUESTION: How did I know the BB Cream broke me out, not the concealer?
ANSWER: I continued using the BB cream for a week without using the concealer because in the morning I prefer a minimalist routine: Cleansing > Toner > Sunblock > BB Cream. That's why I know which one is the culprit.
Where to Buy?
You can purchase the Klairs Illuminating Supple Blemish Cream Php1310 and the Klairs Creamy & Natural Fit Concealer Php730 in Kbeauty Cafe. Don't forget to use the code itsmariaalyssa to get Php100 off for first-time buyers with minimum orders worth Php1000.
** I received one or more of the products mentioned above for free in the hope that I would mention it on my blog. And some of the links in the post above are "affiliate links." This means if you click on the link and purchase the item, I will receive an affiliate commission. Regardless, I only recommend products or services I use personally and believe will be good for my readers. All thoughts and opinions are mine alone and not influence by the brand or its affiliates.