Kylie Jenner Lip Kits are so popular, it literally breaks the internet every time they restock. Seriously, they once broke Google. And apparently, they broke at least one post office as well. It's madness, but I assure you the hype is not that overrated because the formula is really great. You can read my Lip Kit by Kylie review.
But Kylie Cosmetics is facing another problem: Fake Kylie Lip Kits are now circulating in some online markets and stores around Asia. Honestly, I already knew this will happen. As someone who lives in Asia, fake products are really common especially when a particular item is massively popular.
It is unfortunate that some people do this, and the worst part, there are online sellers who are claiming that their fake Kylie Lip Kits are real and sell it for the original price or more. Some even show in their eBay pages real Kylie Lip Kits, but when they send it to you, you'll get the fake lip kit. So it's time to be safe now and know how to spot a fake Kylie Jenner Lip Kit.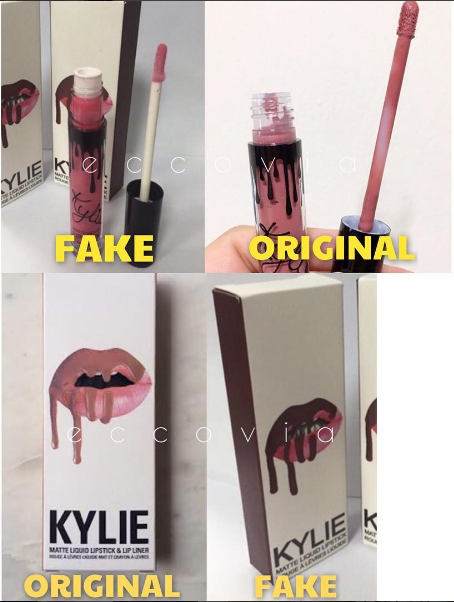 How to Spot A Fake Kylie Jenner Lip Kit?
1. A fake Kylie Jenner Lip Kit cost only around $1- $4, but the price of the original Lip Kit cost $29, unless if you buy it from Lip Kit re-sellers then it will cost a little bit more.
2. The box of a real Kylie Jenner Lip Kit has its item's shade shown on the top and sides of the box, while the name of the shade is written on the top. The lip photo is a bit higher and the fonts are bolder.
The photos above are the real Lip Kit by Kylie
The photos above are the fake Kylie Lip Kits
While some boxes are really trying to copy the original boxes, some fake Kylie Jenner Lip Kits are packaged in slim boxes.
The photos above are fake Lip Kits as well
Take note that all original matte Kylie lip kits are packaged in a rectangular box and come with a lip liner. Only the metallic mattes and glosses are packaged in slim boxes and do not sell with a lip liner. Some fakes are also called "Kylie Lip Cream" instead of Kylie Lip Kit. You can learn more about cosmetics at a cosmetology trade school near you.
3. The box where the lip kits are packaged when the company sends it to you is square. Not rectangular like those shown in the top-left photo. Although the company recently changed the box design (and I'm sure they will change it again in the future) because some are getting stolen, presumably by the couriers, they are always square like this, so far.
4. The Kylie Lip Kit's bottle has a clear white cap (stopper) on the opening, not a pure white unlike on the photo above. The real Lip Kit's opening looks like this:
5. I have nothing against on buying from online re-sellers, after all, it's really hard to buy it on Kylie Cosmetics especially if you live in a country where the restock happens while you're asleep, or the internet networks in your country really suck. If you choose to buy it from online re-sellers, make sure you trust them. If it is your first time purchasing from them, then ask for the order number and look for their previous customers' feedback. If you're from the Philippines, Hong Kong or Macau, you can buy from these trusted re-sellers that I personally know and had a transaction with at least once. They all buy their products directly from Kylie Cosmetics, all of them are US shoppers.
UPDATE JUNE 11, 2016
6. The fake Kylie Lip Kit kinda improved, at least on the packaging. They now come with a black box with a silver "KYLIE" label on the top and inside. And they also have a business card size copy of Kylie's letter. Look…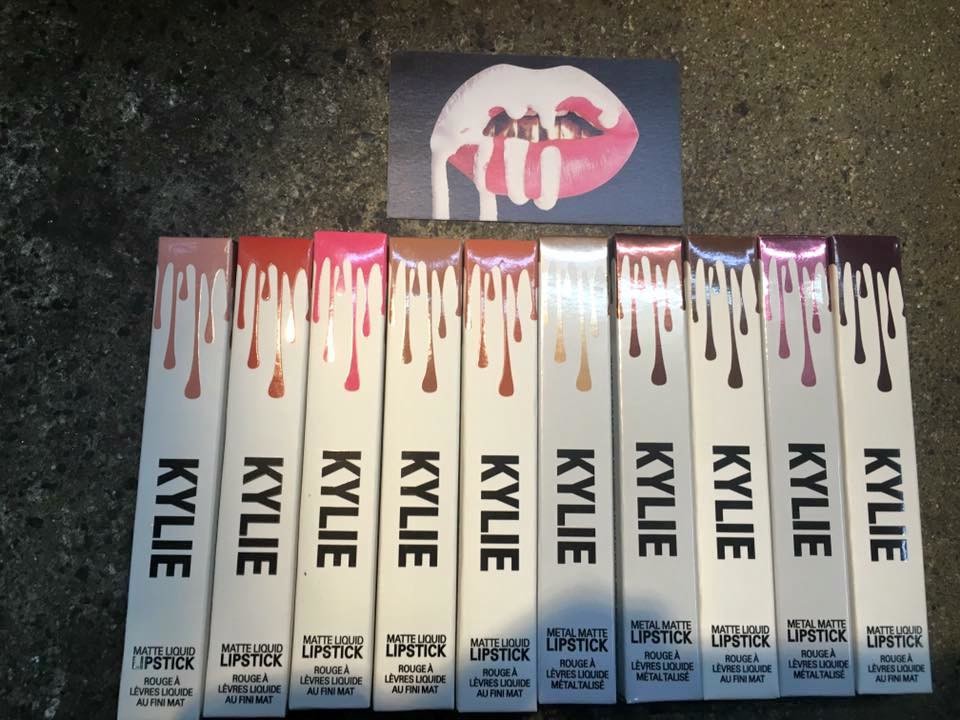 The lip kits showed above are FAKE. In the Philippines, they cost around Php150-500 (roughly US$3-11) and they are called "Singapore Authentic" and does not sell with a lip liner. When you're going to buy from re-sellers make sure they are made from LA, as labeled on the original Kylie Jenner Lip Kits.
This is what the new Kylie Cosmetic box look like as of June 2016…
The latest box of Kylie Cosmetics is plain black, no design whatsoever on the outside, not even a silver "KYLIE" but the inside has the usual silver KYLIE but now it has white dripping graphics on it. And the website, as always, is typed on the top. The original Kylie Cosmetic box is also bulkier, unlike the fakes that are slim. Lastly, look at the difference on Kylie Jenner's letter that comes in every order. The original is postcard size, while the fakes are business card size.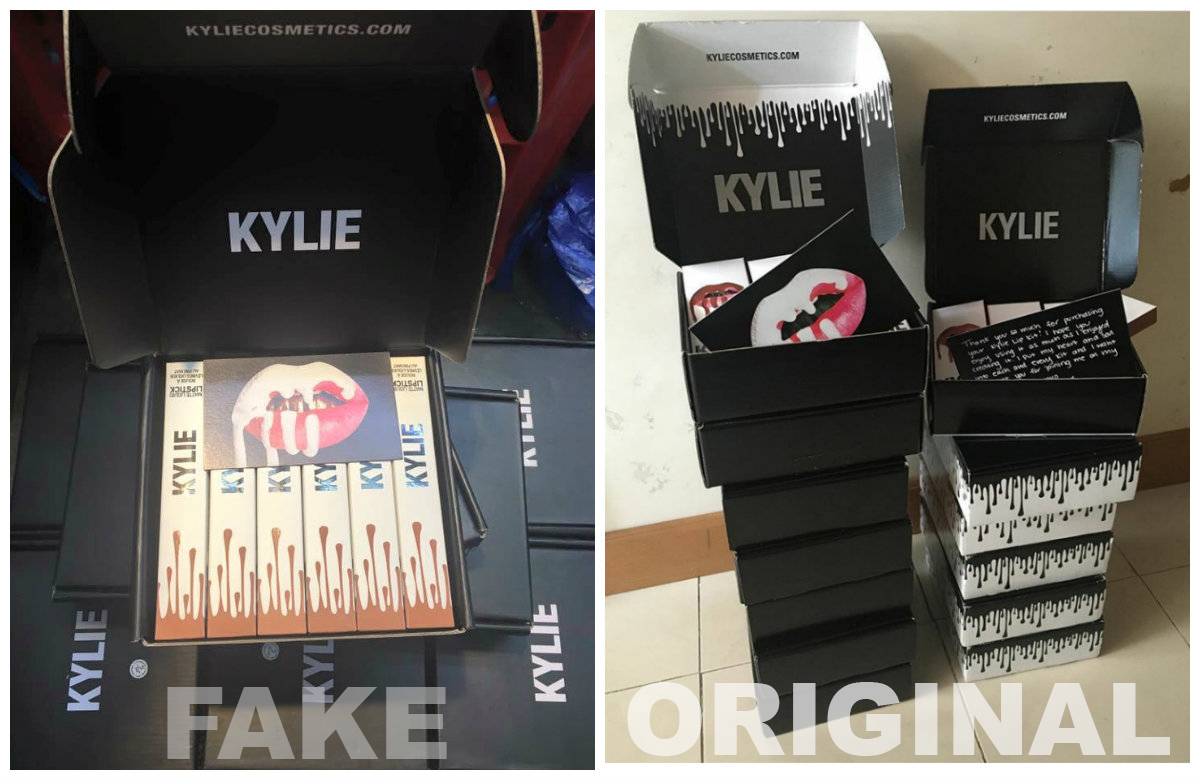 And here's the actual size of the letter…
The original Kylie Jenner Lip Kit letters are bigger, like postcard size. And the other side has a lip photo with chrome teeth, just like on the original packaging of the lip kits.
UPDATE JUNE 17, 2016
Fake Kylie Jenner Lip Kits improved so much since my update just last week. A person I know (who provided these photos) bought a Candy K Lip Kit from a re-seller in Macau for personal use and she discovered it was fake. The re-seller, who shall not be named, claimed they didn't know their lip kits were fake because they claimed to buy it from Amazon. They refuse to give a refund, instead, they offered to give a discount on the next purchase. But the person I knew refused because she won't buy another fake lip kit even though it is "discounted".
(Disclosure: Kylie Cosmetic Hong Kong sells authentic Kylie Lip Kits ordered from KylieCosmetics.com ONLY every restocks and will never ever sell you fake items. They are also committed to informing you how to spot fake Kylie Jenner lip kits.)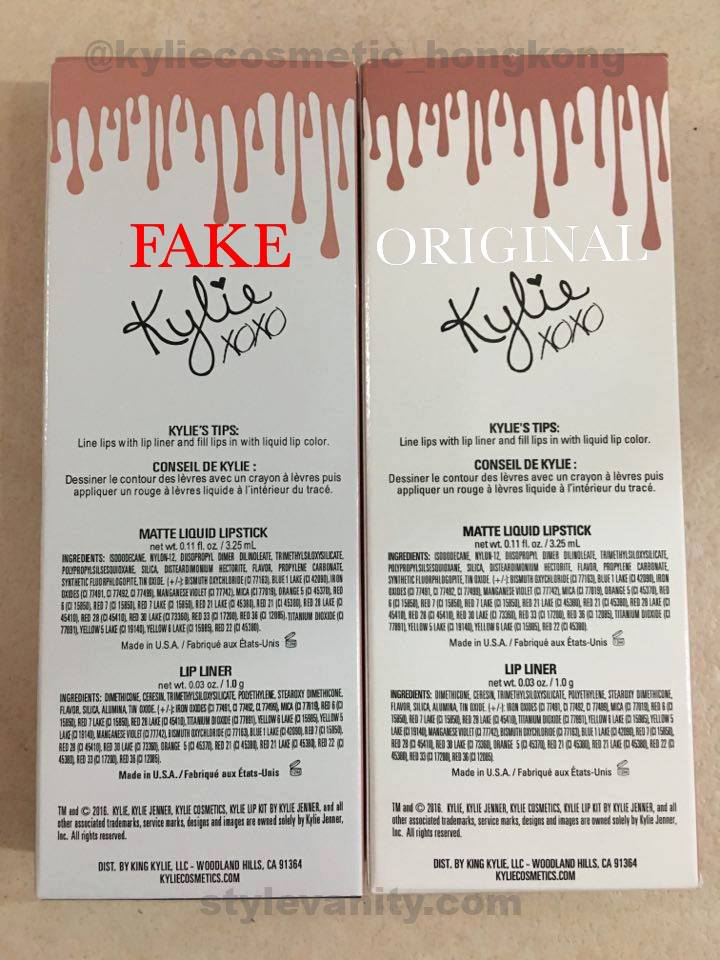 7. Fake Kylie Lip Kits are now sold with lip liners and the same box, but original boxes' prints are brighter. Look at the fake Candy K, it's kinda pale.
8. Lip Liners that are sold with the fake Kylie Lip Kits are bigger and paler shade than the original and has a different cap as well.
9. Even Kylie fake lip kits have a seal on the bottom like the original lip kits, but they don't even bother to stick it in the center. Plus, the fonts of the fake Kylie lip kit seals are smaller than the original.
10. Fake Kylie lip kit's cap is smaller than the original, and the edges are more solid as well.
So far these are the difference I could gather between the real and the fake Kylie Jenner Lip Kit. I haven't tried any fake lip kits yet, and I hope I won't but I'm very sure the formula is different.
UPDATE JUNE 24, 2016
You asked for it so here it is. A comparison of the REAL and FAKE Kylie Lip Kits swatches.
Real Kylie Matte Lip Kits Swatch
And this is the fake Kylie Lip Kit Swatch…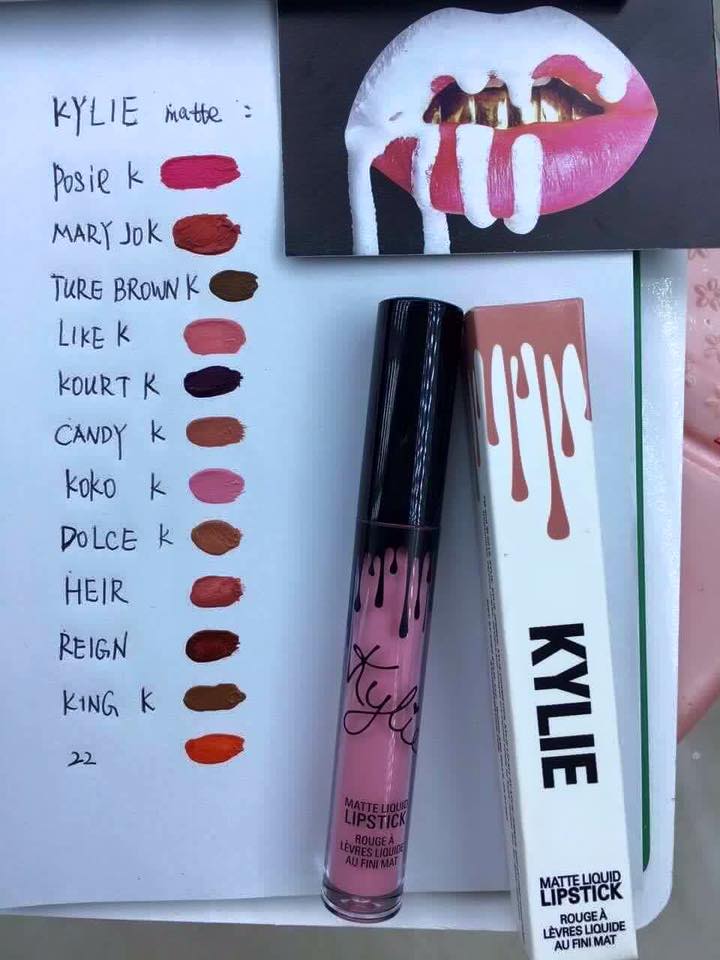 At first look, they look the same but the King K, Reign, Heir, Kourt, Candy, and Mary Jo looks a bit different. While there is no "Like K" at all, but there is "Like: and it's a gloss, not matte as stated on the fake Kylie lip kit swatch.
The last advice I could give you is…
1) DO NOT BUY IT FROM eBay retailers (unless you already experienced purchasing from them and you completely trust them) because you can never be sure from them. Sometimes they will show a real item on their page, but they will send a fake item instead.
2) NEVER buy from Chinese e-commerce sites as well, like DHgate where I personally found several fake Kylie Jenner Lip Kit unless you're going to shop for Top Chinese Makeup Brands.
3) If you want to buy from re-sellers, ask for order number if they cannot provide it, don't bother. Or check their former customers. Also when they say their Kylie Lip Kits are "SG Authentic" then it is surely fake because Kylie Lip Kits are made and manufactured in Los Angeles, California in the USA.
4) If the deal is too good to be true, like the re-sellers are selling it for less than the original price, then it is surely FAKE.
5) If you want to buy fake for the sake of showing that you're using a Kylie Lip Kit then read this article from Buzzfeed about things scientists found on knockoff cosmetics and it might completely change your mind. If you are desperate for a Kylie Lip Kit but doesn't want to pay higher on legitimate re-sellers, I recommend buying dupes from ColourPop instead of buying fakes. After all, they're the same formula *wink, wink*
Don't get ripped off with fakes. Make sure you buy from a reputable lender and if you can't afford it right now you can get a quick loan from Badcreditsite.co.uk and you'll be able to pay it back over a longer period of time.
Hopefully Kylie Cosmetic will do something to make their products harder for counterfeit makers to copy them. This post will have a continuation about the Kylie Cosmetic's quality control problems.
**All photos are from the girls from Kylie Cosmetic Hong Kong unless otherwise noted.