Whether you like Kylie Jenner or not, if you're a lipstick junkie, I swear you'll love her Lip Kits –even just one color. I'm one of those rare people who doesn't give a damn about what the Kardashians are up to, but the Lip Kit's hype really got to me since I'm always on the hunt for that perfect matte lipstick. So last month, with a lot of skepticism, I decided to buy it and I was lucky enough to score one. And ever since I bragged about it on social media (because I have to) a lot of people had been asking me to write a Kylie Lip Kit review. And here's what I have to say about it…
What is it?
Kylie Lip Kit is a matte liquid lipstick and cream pencil lip liner combo; two things you need to achieve that beautifully shaped lips we all adore.
Performance
APPLICATION: The matte liquid lipstick is highly pigmented, actually it's the most pigmented lipstick I ever tried and that's an understatement. The pencil lip liner, however, is just average to me, although I like that it's creamier than my favorite Revlon ColorStay lip liner, both last just the same to me.
The matte liquid lipsticks also glide smoothly on my lips and dry fast. It kinda felt dry on the lips while you're wearing it, like most matte lipsticks, but the difference is that Kylie Lip Kit does not make your lips flaky and doesn't leave your lips dry after you removed it.
PACKAGING: I like that the Lip Kit's boxes show what shade it is immediate. The box's front, sides and on top shows if it is Dolce K or Candy, etc. They weren't like those other lipstick brands where they all look the same and you have to look at the bottom to read what shade it is. It's not much "innovation" but I like it since I'm lazy and I appreciate a clever packaging.
While the matte liquid lipstick's bottle, to me, feels a little bit luxurious. It doesn't have an avant-garde design or a cute packaging like Korean beauty brands but it's not made of cheap plastic.
But despite I love the box and the bottle, I have complaints about the pencil lip liner. For starters, I hate sharpening. Sharpeners are usually not around when you need it the most, and you need a f***ing good one to sharpen your lip liner (even your eyeliner) because if you have a crappy sharpener you'll end up with a crappy liner. And second is the liner's cap. I'm not sure if it is only my product's problem or there's a batch of lip kits out there with a loose liner cap. Regardless, it's been troublesome for me because it's so loose it ends up getting lost inside my bag and ruins the perfectly good pointy liner. And I may eventually permanently lose it.
I ???? my Lip Kit from @kyliecosmetics it's my new fave lippie but I have 1 complain #lipkitbykylie #lipkit pic.twitter.com/pJN73FWsn8

— Alyssa (@ItsMariaAlyssa) April 25, 2016
SMELL: I love the smell of Kylie Lip Kit. A lot of people who own it compares it to cakes and anything sweet. The Dolce K smells like chocolate, even my brother said it when he smelled it while I was applying it. But personally, I think it smells more like "shembot" a popular Filipino cocktail mix drink. Or a Bailey's Mudslide Mix, for those who are not familiar with shembot.
RESULTS: The thing I like the most on the matte liquid lipstick is that it lasts longer than any lipsticks I tried and it's smudge-proof. I tried a lot of matte lipsticks before but no matter how much they promise in the ads that it will stay longer, within an hour or two I find myself applying it again. Or worst, I find them sticking on my teeth. And I honestly never experienced those problems on Kylie Lip Kit.
If you follow me on Snapchat, you probably watched my candid Kylie Lip Kit review. If you haven't, well the lip kit lasted around 5 hours on my lips after I eat, drink, and then eat again. Although I haven't tested if it is kiss-proof since I had no volunteer :D but I tested it on ice cream and it kinda made it weak. My lip kit started to wear off after I ate an ice cream. There's still some left after I finished eating it, but I needed a retouch.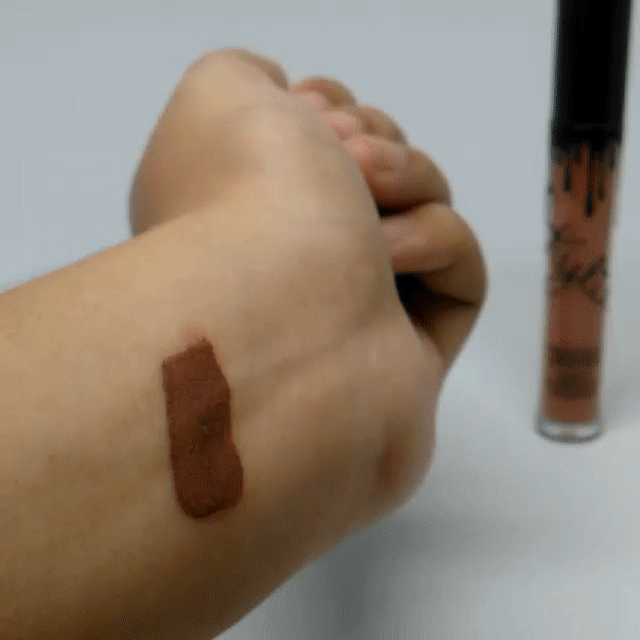 PROS: It's smudge-proof and doesn't leave your lips dry and flaky even after you removed it. Both the matte liquid matte lipstick and pencil lip liner glides smoothly. But most importantly, it lasts for hours! It doesn't stain your teeth, and I only managed to remove it completely using an oil-based cleanser.
CONS: Limited stocks, super hard to buy. The lip liner cap is loose and you have to sharpen it. A little expensive than most lipsticks.
Where to buy?
You can buy Kylie Lip Kit on their official website KylieCosmetics.com for $29. But since it sold out fast, people who live outside of the US and have a huge time difference find it hard to buy so some opts to buy it from re-sellers. Luckily I found some shops in the Philippines that sells Kylie Lip Kit like Kylie Cosmetic Hong Kong for a reasonable price.
FAQ
1. Is Kylie Lip Kit worth buying?
Honestly, yes. When you have a chance to buy, do it! You won't regret it. It's one of the best lipsticks I ever use. After I used my Dolce K, I immediately hunted a Candy K and #22 shades. But I'm not going to collect them all like some Pokemon. Of course, I'm not going to buy the shades I don't like or won't suit my skin tone. But is it worth buying more than twice its original price? Definitely no. It's a lipstick, not an investment. Just be patient on their restocking or find nice re-sellers who doesn't take 300% advantage of the demand.
2. Does it really have the same formula as the ColourPop? (Update 5/11/2016)
There has been a report that circulated before the Kylie Lip Kit restock yesterday about a beauty blogger found that Kylie's $29 Lip Kit Formula is the same with the $6 ColourPop. Honestly, I've been suspecting it myself before I bought my first Lip Kit. Especially when Kylie visited the ColourPop's lab before the release of her lip kits last year and learned that they have the same manufacturer. So here's my personal opinion about this issue:
ColourPop is a great brand as well. It has great quality products despite its cheap price. They may have a lot of similarities with the Kylie Lip Kits especially on most ingredients, but Kylie Lip Kit lasts longer than ColourPop. And the said blogger even admitted that on her review. Plus, ColourPop dries and cracks your lips even after you scrubbed it off your lips. I'm sure those who used it before are familiar with it.
And lastly, it's not illegal nor uncommon for beauty brands from the same manufacturer to share a formula (or in some cases, exactly the same formula) and sold at different prices. It's the same with Mac Cosmetics and Estée Lauder. Think about it.
So yes, ColourPop and Kylie Lip Kit have some similarities but they have different shades and the latter lasts longer. I'm not convincing you to dropped ColourPop and choose Kylie Lip Kit instead, I'm just saying, it's your choice. ColourPop's advantage is that they're cheaper and have more shades available. Lip Kit's advantage is that they last longer, and doesn't make your lips dry.
GIVEAWAY ANNOUNCEMENT
As you've read on my previous posts, I'm hosting a Lip Kit by Kylie giveaway and I will launch it this coming Friday! But the best part is that I'm not only giving away one matte lip kit, but I'm also going to giveaway one Kylie lip gloss.