If you have been following my Instagram or Snapchat (Username: itsmariaalyssa) then you probably saw my latest Korean Beauty hauls and some brief video reviews. One of those was this one for my Nature Republic Soo 95 Green Tea Mist review. But before I gush about this product, I'll tell you something about the beauty benefits of green tea, the most important ingredient of the product.
Tea is an ancient herbal drink known for its stimulant qualities largely attributed to caffeine. In modern times, it also became touted as a health food allegedly helpful in preventing or ameliorating a variety of conditions, from heart disease and cancer to gum disease, skin aging, and weight loss. The major types of tea include black, green and white, differing by the method of harvesting and processing.
Beauty Benefits of Green Tea
1. Protects Skin From Sun Damage – This is in reference to green tea being used topically, and in conjunction with sunscreen. The antioxidants it contains can work from the outside in, not just the inside out, and it's being discovered that while it doesn't necessarily block the sun's rays, it does mitigate the damage that is done to the skin from the sun. The free radicals that help UV rays cause damage are neutralized, and the green tea helps with inflammation as well.
2. Tones Skin, Hair, And Muscles – This is another way to topically use green tea. You don't even have to drink it to get some of its benefits. When applied to the hair it can help it grow stronger. When you drink it should help your muscles function at more optimal levels, since it helps them a contract. If you want healthier gums it is said that you can simply rinse green tea in your mouth and you'll see an improvement of gum health.
3. Reduces Psoriasis – If you're dealing with the redness and irritation that comes with Psoriasis, you may find some relief by using green tea topically. Research has shown that green tea can help to slow down the production of excess skin cells that seems to be the underlying cause of conditions like psoriasis. It can even help to alter the genes in your body, so this is one powerful all-natural remedy.
4. Reduces Redness In Rosacea – The redness that rosacea brings is the part that most people are trying to get rid of. The good news for green tea users is that in a controlled study it was shown to provide far superior redness reduction than a placebo. This was from using topical cream infused with green tea. This is most likely due to the calming effect green tea has, as well as the antioxidants going to work on the problem.
5. Prevents Wrinkles – Those trusty antioxidants are at it again. It seems like there's no limit to the number of benefits they provide, and since green tea is so dense with them it's the best bang for your buck as far as anti-aging goes. Several factors of the aging hinge on free radical damage, and getting wrinkles is one of them. By keeping your body full of antioxidants it reduces the likelihood of getting wrinkles so you can stay looking younger for longer.²
Nature Republic Soo 95 Green Tea Mist Review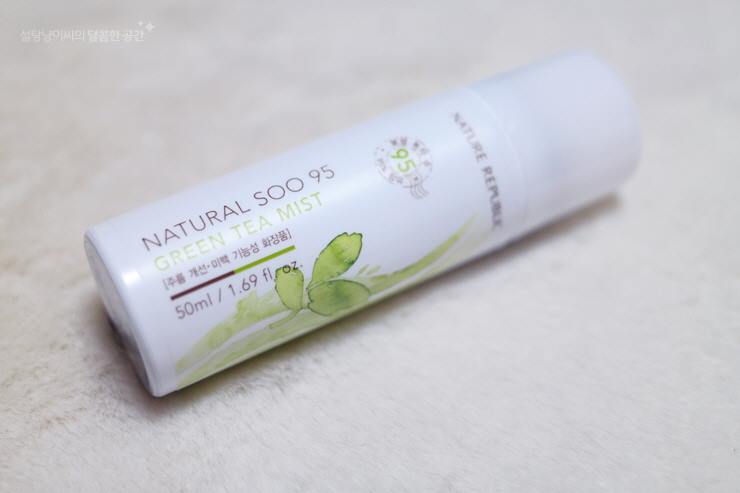 What is it?
Nature Republic Soo 95 Green Tea Mist is a face mist perfect for those with oily skin. It can help balance out your oil production and keep your skin feeling fresh. It is a hydrating product with vitamins and minerals that can improve the overall appearance of the skin. It also helps set your makeup to glow throughout the day and doesn't feel like the makeup is sitting on top of the skin.
When I bought it in Nature Republic store it has no box and the details on the back of the can are mostly written in Korean so honestly, I don't know what else in it besides green tea. But the sales lady of the store was able to explain to me that their Green Tea Mist is recommended for those with oily skin, the Aloe Vera Mist is for those with dry skin, and the Bee Venom Mist is for those with sensitive skin.
Performance
Application: The details on the back are mostly Korean but at least the directions are translated into English. It says you can use Nature Republic Soo 95 Green Tea Mist twice a day. And during the day it is perfect for setting your makeup. When I apply it I close my eyes and spray it 20cm away from my face. Then sit it for around a minute while fanning my face using my hands like I'm scooping the excess spritz of the mist on the air. The mist is quite minty which makes it very refreshing to use. And then blot the excess with a tissue. Some people don't know you're supposed to that when you use a face mist but it's VERY IMPORTANT.
Packaging: Nature Republic Soo 95 Green Tea Mist is not packaged in a box unlike most Korean Beauty products in the market. The design is not very cute too but it does have a refined look to it. The spray performs really well too, it's not hard to press unlike those with deo-spray so you'll not end up pushing too hard and have too many mists on your face. You can actually control the amount of the mist being dispensed.
Smell: Although it is a green tea mist, it doesn't actually smell like those brewed green tea we drink. It smells like a fusion of green tea, aloe vera, and mint which makes it so refreshing to use. I love using it in the afternoon when the temperature is getting hotter.
Results: I prefer using Nature Republic Soo 95 Green Tea Mist on the morning after I wash my face with Etude House Baking Powder BB Deep Cleansing Foam (because I use Benton Snail Bee High Content Essence a night). It really helps set my makeup and also makes last longer and look more natural yet dewy. When I don't use makeup, I use it alone and it still makes my face look radiant. I have combination skin but more on the oily side than dry and yet when I use Nature Republic Soo 95 Green Tea Mist my face doesn't get oily fast. Sometimes it's already afternoon yet my face still looks clear.
I use this too as an alternative for my cream moisturizer. Since my skin is oily I only use on gel based products and only a few gel moisturizers are available in the Philippines market. Which is ironic because our country is very humid. And because the can is light and handy, I can put it in my bag and bring wherever I go.
Pros: It keeps your makeup looking glowy throughout the day and helps to keep your skin hydrated. If you have oily skin, this facial mist can help balance out your oil production and keep your skin feeling fresh.
Con: The details on the back are written on the back so you don't know what else is in it which bums me because you're not sure if it has an ingredient that you're allergic too. But so far my skin looks fine and I didn't have any allergic reaction.
Where to Buy?
You can buy Nature Republic Soo 95 Green Tea Mist in all Nature Republic stores for Php475 or around $15. Unfortunately, I couldn't find this on my favorite online Korean beauty shop W2Beauty.com and in Amazon. But you can the same product from another Korean beauty brand. Check out Innisfree Green Tea Mineral Mist $9.44 which has great reviews too.
What do you think of this Nature Republic Soo 95 Green Tea Mist Review? Have you tried it before or will you try it? Share it below!
Reference: ¹Smart Skincare