Note: This post was originally posted last February 24, 2014 and due to its popularity I'm bringing it back again with product updates.
Our eyes are the window to our souls… so they say. Keeping it attractive is the key to attract people because it's one of the first thing people took notice. A mascara is one of the products we use to achieve attractive-looking eyes but did you know that just as with hair, skin, bodies, faces, etc., we all have different type of lashes? It is actually important that you know different types of mascara, what kind of formula each mascara has to achieve the results you are expecting whether it is a full-long-thick-colorful lashes or a natural look.
Mascara is one of the first basics of your makeup case, as even when we are after a natural look, the correct mascara choice will bring out your lashes and open up your eyes to pull off any outfit or style desired to achieve. It is said that by having a big lovely bunch, 80% of your makeup look is done, as it will showcase your sparkly eyes no matter their shape or color, bringing the attention to the center of your face. Try different textures, colors, intensities… this is one the best, easiest and cheaper ways to play up with your makeup and your looks!
#1 Mascara Primer
Just like your common eye and foundation primers, the eyelash primer prepares the lash to receive the mascara and offers some of the same benefits: even application, longer lasting effect, prevent smudge and clumping and less product absorption on your lashes; it also protects your strands from drying with the constant use of mascara, so if you use it on a daily basis, applying a first a primer is the best option to protect your lashes.

CLINIQUE Lash Building Primer • Clinique • $15.00
Smashbox Layer Lash Primer Layer Lash Primer • Smashbox • $19.00
Diorshow Maximizer Lash Plumping Serum • Christian Dior • $28.50
Lancôme CILS BOOSTER XL Super-Enhancing Mascara Base • Lancôme • $25.00
#2 Lengthening Mascaras
For those with particularly short and/or straight lashes the lengthening mascaras are the right type. They contain plastic polymers, made of nylon or rayon, that cling to the lashes and extend them beyond the tip, making them look like fake lashes. Usually, the brush used for this type of mascara has dense bristles for a thicker application.
NARS Larger Than Life Lengthening Mascara • NARS • $25.00
Bobbi Brown Lash Glamour Extreme Lengthening Mascara • Bobbi Brown • $26.00
Estée Lauder Double Wear Zero-Smudge Lengthening Mascara • Estee Lauder • $25.00
#3 Thickening / Volumizing Mascara
For those with thin or limp lashes, this type of mascara will add volume without the heavy and overdone look. Their formula contains silicone polymers and special waxes to add bulk and also contain darker and stronger pigments for a dense look.

SEPHORA COLLECTION Outrageous Volume – Dramatic Volume Mascara • Sephora • $12.00
bareMinerals Lash Domination Volumizing Mascara • bareMinerals • $18.00
stila Stay All Day® Waterproof Volumizing Mascara • Stila • $22.00
#4 Curling Mascara
Very suitable for those with straight or poorly defined lashes. They contain filmifying polymers that contract once you have applied it, making the lashes shrink and lift to make a pronounced shape. This curling effect lies on the brush as well, having a slightly curved shape rather than the usual straight shape.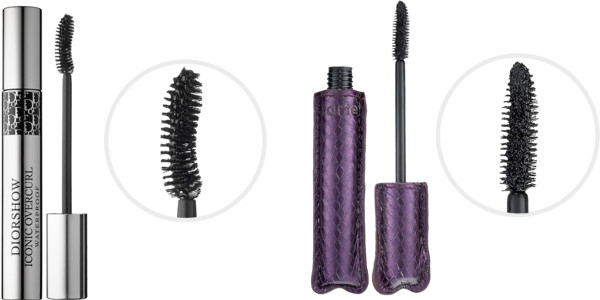 Diorshow Iconic Overcurl Mascara • Christian Dior • $28.50
tarte Lights, Camera, Lashes™ 4-in-1 Mascara • Tarte • $10.00–20.00
#5 Smudge-proof Mascara
This is for everyone who needs their makeup stay neat and withstand long hours, moisture, scratches, rubbing, swimming, rain, etc., until the end of a hard working day. If you are always on the go or enjoy outdoor activities, this is a good option. They contain a wax-oil base to make them water proof/resistant, and shellac and polymers to cling to the lashes to avoid smudging. A few con's: you will need an oil-based makeup remover and also might dry your lashes, so use them sparingly or give your lashes a rest whenever not on-the-go.

Diorshow Black Out Waterproof Mascara • Christian Dior • $27.50
Too Faced Better Than Sex Mascara • Too Faced • $23.00
Benefit Cosmetics BADgal Waterproof Mascara • Benefit • $19.00
#6 Waterproof Mascara
There is nothing more embarrassing than running mascara on your face or frustrating than a mascara stain on your favorite shirt. Go for this type of formula if you are expecting some rain, tears, sweat or any moisture situation. They are also great if you have an oily skin type, as our own natural skin oils can cause other formulas to smudge and ruin your makeup. This type of mascara contains mineral oils and waxes from animal or vegetable sources, which give them their waterproof effect.

Diorshow Waterproof Mascara • Christian Dior • $25.00
bareMinerals Flawless Definition Waterproof Mascara • bareMinerals • $18.00
Givenchy Phenomen'Eyes Waterproof Mascara • Givenchy • $31.00
Eyeko Sport Waterproof Mascara • Eyeko • $24.00
#7 Zero – Clumps Mascara
If you find that regardless the brush or formula your lashes still clump with application, it might be either the way you are applying your mascara or the formula itself. Try this formula that contains glycerin and silk extracts to avoid the clumpy look; usually the brush it comes with has long bristles for an even application through from one corner of the lash to the other. You might find yourself not getting the volume and length as with other formulas, as it contains less wax, polymers or fibers, but it is great for a natural look.
theBalm 'What's Your Type® – Tall, Dark & Handsome' Mascara • TheBalm • $19.00
#8 Lash Defining Mascara
These type of mascara offer all the benefits in one go: volume, length and color. They have a thicker and heavier consistency and most of them are waterproof, as their unique formulation can smudge with moisture. The ingredients are special filmifying polymers for thickness and gloss, strong pigments for luscious color and rayon or nylon fibers to offer a lengthening effect. The waterproof formulas contain wax and oils ingredients to resist the water/moisture conditions.
Lancôme HYPNÔSE DOLL LASHES Mascara • Lancôme • $27.50
BUXOM® Lash Waterproof Mascara • $19.00
Shiseido Perfect Mascara Defining Volume • Shiseido • $24.00
#9 Eyebrow Mascara
As the common mascaras do for your lashes, this version give definition and shape to the eyebrows, especially to those ones that are fair or with a mind on their own and the pencil is not enough. They have a heavier consistency to prevent dripping and contain less gloss, as a shinny look is not required. Their brushes are the same as the lash mascara, but some come with a comb applicator for even application. If you love Cara Delevingne and Lily Collins' eyebrows then this product is what can help you achieve it! Just choose a color that matches your hair for a more natural look or opt for gel types.

MAKE UP FOR EVER Brow Seal Transparent Eyebrow Gel Brow Seal Transparent Eyebrow Gel • $18.00
BORGHESE Brow Milano Brow Emphasizer $22
Now that you've read the 9 different types of mascara, you have an idea now what is the right mascara for you and how important to use a mascara primer just like how you use primer on your eye shadow and foundation. But also invest on a good eyelash curler! My favorite is Shiseido Eyelash Curler ($19) because it's affordable, easy to find an eyelash curler pad replacement for it and the only eye lash curler that really worked on my thick lashes.
Lastly, make your mascara as an important part of your outfit, as you use any other accessory because it can bring life to your face to spark your day! Just look how striking my eyes!